This Is Your Sex Life: Masterandslave Shares Her Sex Toy Box
An avid sex toys reviewer, masterandslave has just written her 100th review. "It's only been during my time on the Lovehoney Forum that I have begun to write reviews regularly. In doing so I have discovered an enjoyment for writing about items I feel passionately about."
With her new found-passion for writing we asked masterandslave, a straight female who has been with her other half for nearly 10 years, to tell us all about her sex toy collection.
Sex toys have a lot to answer for; they have helped spice things up, but they have also helped my partner and I to discover new pleasures that are just impossible to achieve with the human body. Toys for me have never been a replacement for my other half, but something we use together to explore pleasure further. Even when used on our own they then become a stepping-stone when we have been frustrated, waiting to see each other again! The world of sex toys also encompasses sexual comfort. Whilst going au naturale does have its perks it's also an uncomfortable truth for me. I have never had an orgasm without using some form of lubricant, and without this assistance things are just too painful and never enjoyable.
My boyfriend and I bought our first toy when we were in a very frustrating long distance relationship. I remember being so embarrassed I hid the bag inside another so no one would know where we had been shopping. However it was only when I discovered Lovehoney and their amazing discreet delivery service that my real collection began to build! The last 2 years we have lived on our own, amassing such a varied selection of toys and introducing both of us to new things like bondage while keeping everything comfortable. There is only so much a girl can take of a scratchy towelled dressing gown tie!
I wish my toys looked like they do in these photos all the time but the truth is the majority are stored in (new) socks! If they were left like this, the different plastics would attack each other and begin to react or even melt each other! When a new toy heads into the drawer, it's in a new ankle sock for its own protection! The drawers are right next to the bed so they are ready at a moment's notice. We keep some sachets of lubricant in the glove box of our car as well as a few in my handbag too, so if the mood takes us nothing can stop us!
1. My first sex toy was…
Very similar to the Deluxe Gold Sleek Vibrator. This was a present from my other half as we were in an ongoing and very frustrating 'seeing-each-other-once-a-month-long-distance-relationship'. We chose this together as it looked the least scary and a good place to start. It soon proved its worth and led to some very long phone calls! Using this did make me realise that the next toy I wanted should be quite different. The smoothness felt quite boring for thrusting (the only other comparison I had was my other half) and it was quite clear that I preferred the vibrations teasing me for foreplay and on my clitoris rather than penetrative. It was a regular under my pillow until earlier this year when the colour began to tarnish, so it was sent with a smile to Lovehoney be recycled in the Rabbit Amnesty.
2. My newest sex toy is…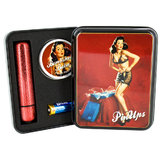 The Pin Ups Bullet Vibrator in Ruby Red. I had lusted after this as soon as this was launched, but it soon turned to love once I got my hands on it! It was just the combination of gorgeous styling alongside a multispeed bullet with a new texture that I hadn't seen before. This was already ticking all the boxes for me, but when I realised it came in a little storage tin too, that was it - I gave in and got it straight away! I went for Ruby red because it is the essential Pin Up colour plus I thought Ruby on the tin had the nicest outfit! In my rush to buy this I had completely missed the fact that it comes with a fab orgasm enhancing balm (which tingles oh so slightly leaving you to enjoy your orgasm, unlike other tingling products!) as well as a battery to get you going straight away as well as a spare. Lovehoney Ambassador you are really spoiling us!
3. My favourite sex toy for guaranteed orgasms is…
The Lelo Ina Luxury Rechargeable Rabbit Vibrator. I was lucky enough to manage to save all my Oh! Points and put them towards one of these beauties. I had always wanted to try a Lelo as they were renowned from the staff as well as the reviews for being the Rolls Royce of sex toys. The Lelo Ina appealed to me because I love the orgasms Rabbits give and could only dream about what this might do to me. The Ina is so different to most Rabbits, the shaft tapers to put more pressure on your G-spot, the shaft does not move, but it vibrates independently and in tandem with the Rabbit "ears". This is just unbelievably powerful and yet amazingly quiet. Unless I want a wham, bam, thank you ma'am in 30 seconds flat, I normally have to work my way up to this by using other less powerful toys so I can get used to the vibrations first. When I do this it gives me the most intense orgasm that I can feel from the tip of my curled toes right through to the hairs on the back of my neck!
4. My favourite sex toy to use with a partner is…
As a chocoholic is has to be the Chocolate and Strawberry Lovers Body Pen Set. I normally shy away from food novelty products, as they tend to be incredibly messy and just don't taste right. However, this set has changed my mind. The Sex Toys TV video with Bonny and The Prof, plus the other reviews set my mind questioning how good these really were. So I took the plunge and thankfully they passed the taste test with flying colours! These don't taste artificial and grainy like others do, just smooth and sweet without overdoing it. The fact that the pen nib is so small means that you can easily control exactly what is going where. You have the power to make your other half lick exactly where you want him to! A favourite of ours at the moment is tracing over our nipples and slowly licking it off again. Best of all because you are using so little these will last a long time, plus you can work off each small lick with a good session afterwards!
5. The sex toy that changed my life was…
The ITap Touch Activated G-Spot Vibrator. I have had bad experiences with a rigid toy with a curve to tickle the g-spot (it had a wider girth - that was the problem in the end). I was a little concerned when I decided to use this, but I really needn't have been. The curve of the tip means that this can really concentrate pressure and vibrations on your G-spot. I thought I had experienced everything when it came to my own G-spot but this simply blew everything I had experienced before out of the water! It's the added pressure from a rigid toy and the pinpoint accuracy that you gain with this that makes this style of toy so effective at giving a very intense full body orgasm. Although the controls were way too sensitive I would definitely get another toy (perhaps with different controls) in this style in the future.
6. My quirkiest sex toy is…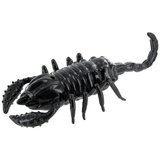 That's a tough one to pinpoint, people who know me will know I like a bit of humour. I wouldn't be with my other half if he didn't make me laugh every single day. Two things come to mind from our collection that have really made us giggle. The first was the Love to Love Oh Oui! Silicone Banana Vibrator. Yes you read that right, a banana vibrator! Whilst we have experimented with food this was taking it that one step further. Who would've thought that the contouring and curves of a pink banana teamed with a powerful bullet would end in mind blowing G-spot orgasms? The other quirky toy that comes to mind is Lovehoney's Death By Orgasm 10 Speed Bullet Scorpion. Very appropriate for me as I am a Scorpio myself, but it is the one and only toy that I have actually let out a scream when I first laid eyes on it and opened the tin! It really did give me a shock when I opened the coffin; I thought there was some kind of tarantula inside when I saw the legs moving! But we soon made friends with each other after discovering its numerous speeds and different textures.
7. The sex toy everyone must have is…
The BSwish BNaughty Deluxe Vibrating Bullet as it's just so sleek, so powerful and so quiet. This is an all round amazing toy. The bullet itself has just been designed so well to stimulate - no matter which way you will get an orgasm sooner or later. It's great for teasing and tickling, so much so that this is my foreplay must-have! It has very subtle contours and a metallic band, which I've not felt on a toy before. Team that with the powerful speeds and patterns powered by two standard packs of AAAs and you will soon be melting like butter! This bullet is a great taste of a luxurious sex toy without too much of a luxurious price tag. You definitely want this in your stocking when Christmas comes!