2010 Top 10 Sexy Christmas Gifts for Lovers
Buying your lover the perfect Christmas present is often a daunting and time consuming task, but there is no need to panic. Lovehoney is on hand to inspire you and ensure that you can find the perfect gift from our guide to the Top 10 Sexy Christmas Gifts for Lovers.
Take the stress and strain out of the lead up to Christmas this year and indulge in our selection of pleasurable gifts that are ideal for couples looking for some intimate and sexy moments this yuletide. For a stress and hassle free Christmas, read on to find the perfect sexy gift for your loved one - all delivered free!
1. BASIC Sex Toys Bumper Fun Pack £19.99
What is it?
This BASIC Sex Toys Bumper Fun Pack is riding alongside the elite when it comes to pleasure and variation: Indulge in the super-smooth single-speed bullet that gives 30 minutes of thrills, slide the Finger Bullet onto your (or your partner's!) finger for 30 minutes of exciting stimulation or add to the fun with the Finger Ring - great for popping into your travel bag for naughty weekends away. As if there couldn't possibly be more sexy toys to play with, you'll discover the sexy vibrations of the Love Ring and impressive powers of the Mega Ring. Your sex life suddenly got extremely exciting and to keep it this way, we have even included a vibrating double-ring that does it for both of you and a Water Ring for sexy shower time.
Why they'll love it?
Watch the look on your lover's face as they delve into this BASIC Sex Toys Bumper Fun Pack and discover 7 toys - the perfect way to introduce some vibrating excitement to your relationship in a fun and affordable way. Perfect for year-round fun or for those of you who want to indulge in some yuletide fun that will keep you and your partner occupied for a very long and satisfying time.
2. Tracey Cox Supersex Twin Silicone Vibrating Cock Ring for Couples £14.99
What is it?
Powerful and cunningly designed, the Tracey Cox Supersex Vibrating Twin Cock Ring brings you double the pleasure and keeps him firmer for longer-lasting erections. Combine with the intense vibrations of the bullet vibrator and prepare for some incredible orgasms. Reusable with a spare battery and 100% waterproof for fun and festive frolicks wherever and whenever you please.
Why they'll love it?
This Tracey Cox ring is the perfect gift for you and your lover – keeping him extra hard and erect for longer with the super-soft silicone ring to slide over the testicles and the smaller one over the shaft of the penis. The sleek and powerful bullet vibrator delivers intense vibrations to her clitoris for a mind-blowing orgasm every time.
3. We-Vibe II New Model Clitoral and G-Spot Vibrator £77.49
What is it?
We-Vibe, the 2009 Sex Toy of the Year for Couples, has been improved with 9 powerful vibrating functions! This unique clitoral and G-spot vibrator can be used alone or worn while you make love to deliver thrilling sensations to you both.
Why they'll love it?
We-Vibe's unique design means women can use it internally while also having penetrative sex with their partner, delivering maximum satisfaction to you both. The two vibrating motors combine to produce a unique throbbing action that syncs with your body - unique and utterly orgasmic. Sex Expert Julie Peasgood tested the We-Vibe for Lovehoney. She says: "Yes - the We-Vibe really does fit in with a penis! It's far more comfortable than you'd expect and reassuringly quiet, especially on the lower speed. It's also an excellent device for strengthening your kegel muscles and its clever shape makes it possible to go out with it in place - a pleasantly illicit experience."
4. Clone-A-Willy Vibrator Moulding Kit £24.99
What is it?
This great value kit gives you everything need to make an inch-perfect replica of your partner's penis in minutes - and turn it into a sex toy! Safe, easy and fun to use, the kit is non toxic and 100% biodegradable.
Why they'll love it?
The finished vibrator is self-contained - the control unit is built into the bottom of the vibe and requires 1 'AA' battery (sold separately). The colour can easily be changed by adding a SMALL amount of any oil-based paint into the liquid rubber as you are mixing it up. Just add a drop of the desired colour.
5. Tracey Cox Supersex Pleasure Wand Vibrator £12.99
What is it?
TV sex expert Tracey Cox has teamed up with Lovehoney to produce a whisper-quiet, smooth, soft-feel 5-inch vibrator with easy-to-use variable speed control for sheet-clutching stimulation.
Why they'll love it?
Perfect to use on your own or with your partner to stimulate the clitoris during intercourse, the Supersex Pleasure Vibe is near-silent and ideal for internal and external use - you'll want to take it everywhere!
6. Monogamy: A Hot Affair Game £23.99
What is it?
Have a hot affair with your partner this yuletide. Dim the Christmas lights, swap the jingles for some sultry music and get ready to play one of the hottest board games ever. Experience new, exciting and occasionally hilarious challenges with the throw of a dice! Beats a game of charades with the family.
Why they'll love it?
Perfect for your very own games over the festive period, Monogamy is the game to spice things up between you and your partner. Roll the dice and follow your way around the board, each space you land on will give you the opportunity to pick a card and act out a particular action - it could be sweet, it could be romantic or it could be dirty!
7. Durex Play Very Cherry Lubricant 100ml £5.99
What is it?
Durex Play Very Cherry lubricant is a fun and fruity way to spice up your sex life. Enjoy the delicious taste and aroma of cherries and prepare for some fruity fun this Christmas - this is one indulgence you will be keeping on your list all year round.
Why they'll love it?
It's totally sugar free and therefore guilt free, meaning you and your loved one can use as much as you like. Water-soluble, safe to use with condoms and vibrators and comes in an easy to use twist pump bottle, making it an ideal stocking filler for you and your lover.
8. Tracey Cox Supersex Beginner's Soft Bondage Kit £22.99
What is it?
Essentially, this is the ideal introduction to bedroom tie & tease play. The kit includes a blindfold sash and four ankle and wrist cuffs - they're soft and the Velcro fastenings are easy to adjust.
Why they'll love it?
As TV sex expert Tracey herself says: "When one of you is tied-up, you'll tend to try new things in bed, straying away from your predictable love-making path - it's the unpredictability that is the biggest turn on!" It's a perfect way for you to experience bondage for the first time - it's a completely safe and non-threatening kit, ideal for naughty weekends away.
9. Earthly Body Trio 3-in-1 Lickable Mini Massage Candles £14.99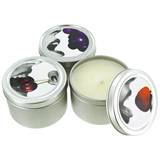 What is it?
Take wax play to a whole new dimension with this trio of romantically erotic edible massage candles that you can lick, drip, drizzle and massage into skin. In three amazing scents they're the ultimate in wax play, making the perfect romantic gift.
Why they'll love it?
Presented in a beautiful gift bag, these candles make the perfect present for a lover or a friend to enjoy. Each candle is infused with botanicals and essential oils for a natural, erotic high. The candles come in three of Earthly Body's flavours - strawberry, grape and cherry. Enriched with natural oils, these clean burning candles are the perfect gift for those who need pampering. Each candle smells tantalising, making the experience even more enchanting. Your senses are spoiled by the feel of the oil, the smell of warm fruits, the glow of candle light, the taste of the oil on skin and the moans of your lover. 100% vegan, chemical-free, drug-free and cruelty-free - as ethical as it is relaxing!
10. Booty Parlor Melt Chocolate Body Fondue £12.99
What is it?
Melt is a luxurious, rich, creamy dark chocolate paint made especially for the body. Get creative and frisky with this jar of delicious body paint and use the brush to create art you can eat!
Why they'll love it?
Deliciously smooth, this is chocolatey rude food that's ready for frisky-fun in seconds. Using the supplied brush, write naughty words on your lover's back (or other tempting body parts) and have your "canvas" guess what you're writing. If they're right, you get to lick it off! The good news is that Melt is just as divine with ice cream, fruit, a spoon or you. Another bonus? Melt is virtually fat free! You're looking at half of one of life's most potent combinations - it's up to you to add the other half…
Top 10 Sexy Christmas Gifts for Lovers Video Guide