2010 Top 10 Sexy Christmas Gifts For Him
Buying sexy gifts for men is difficult, that's something we won't deny. With all the thousands of different products on the market, how will you know what he'll like? And what happens if he's never used one before? Lovehoney is here to answer all your questions and take the guesswork out of buying sex toys for men.
Read on to discover our Top 10 Sexy Christmas Gifts For Him.
1. Tracey Cox Supersex Stroker £12.99
What is it?
A brilliantly versatile sex toy for men (and their partners!) that's easy to use and can accommodate nearly every man's size. Add a little lube, slip this sleeve over his penis and he can enjoy either the stimulating nodules or the ribbed texture. With its discreet entry, it's completely unintimidating whether he wants to play alone or with you.
Why he'll love it!
A great way to enhance his pleasure, the stroker has two textures: on the outside there's lots of flexible nodules, and on the inside he'll find a series of stimulating edges. Each texture provides a new and exciting sensation that will stroke, tease, entice and excite him. It's great fun for him to use and every man should have one!
2. Tracey Cox Supersex Silicone Love Ring £6.99
What is it?
A stretchy, 100% body safe silicone ring that is placed at the base of his penis. The slight restriction of blood flow enhances his erection, while the vibrating bullet gives extra pleasure for her during sex. It's also a total bargain!
Why he'll love it!
This cock ring will help his erection stand large, tall and proud - boosting his arousal and sexual confidence. The vibrating bullet will give new tingles to him, and intense clitoral stimulation and satisfying vibrations for his lover.
3. Lovehoney 7 Function Vibrating Magic Cock Ring 2.0 £14.99
What is it?
A super-stretchy cock ring with two bands - the first goes under his balls, while the second ring sits at the base of his penis. The extra support and restriction enhances the look of his package and strengthens his erection, while the 7 function bullet gives exquisite pleasure to all involved.
Why he'll love it!
This ring will enhance his entire package - cock and balls - for a fabulous look and great feel. Made from extremely stretchy material, there is plenty of room to get the positioning of this cock ring right so he can be extra confident of its fit. The vibrating bullet will give strong tingles to him, and orgasmic vibrations for his lover.
4. Death By Orgasm Fang Banger Vibrating Vampire Cock Ring £14.99
What is it?
This vampiric vibrating cock ring has two bands and two separately controlled vibrating bullets - one ring goes over the balls and positions a vibrating bullet at his perineum, while the other sits at the base of his penis and directs vibrations to his partner.
Why he'll love it!
This ring will deliver wicked vibrations to his perineum while also giving her strong clitoral vibrations. The Gothic-inspired fangs and nodules add extra bite! With two rings, it will enhance his cock and balls for a fabulous look and great feel.
5. TENGA Black Flip Hole Masturbator £84.99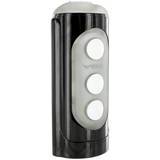 What is it?
This futuristic-looking gadget is designed for his pleasure - he simply lubes up, slides in and enjoys the textures that have been specifically engineered to give him entirely new and pleasurable sensations. The TENGA is a great, indulgent sex toy to give to your man if you're uncomfortable giving a lifelike toy.
Why he'll love it!
This toy takes a man's orgasm to another level. The TENGA's inner waves, nodules, bumps, ridges, ribs, fronds and super-tight 'pyramid' design is engineered to give him a sensation unlike anything else he's experienced.The super sensual textures caress, hold, stroke and rub and are just as fun to enjoy with a partner as alone.
6. TENGA Egg Stepper £9.99
What is it?
Funky and fun, the TENGA Egg is a textured sleeve that stretches over his penis and makes stimulating him a completely different and knee-trembling experience. It's a perfect stocking filler and a great way to experiment with sex toys for him.
Why he'll love it!
Great for him to use alone, or with you in control, the TENGA Egg's waves, ripples and swirls are an orgasm game-changer. A fantastic way to indulge him, he'll love the new sensations and the fact you're giving him such a pleasurable treat.
7. Pink Lady Stamina Training Unit Fleshlight £55.99
What is it?
Disguised as a torch (or flashlight, hence the name) this top-notch male sex toy simulates the unmistakable feel and intense sensation of intercourse - it even looks the part. The Stamina Training Unit is a fantastic way to stay in shape for the real thing.
Why he'll love it!
Made from incredibly lifelike material, the Pink Lady has a tight and pleasurable realistic insert. With a generous length and adjustable suction, he can full customise the experience. The Fleshlight STU allows him to take that pressure off and train without the pressures and anxieties of trying to perform with a partner in mind - working out has never been so fun.
8. Bad Boy Prostate Vibrator £39.99
What is it?
A specially designed silicone toy that stimulates the male prostate gland internally and the perineum externally. With a removable bullet, this toy can be used on its own or with added vibrating intensity.
Why he'll love it!
This fulfilling, contoured toy stimulates his prostate and perineum for a truly mind-blowing orgasm. Based on the famous Rude Boy Prostate Massager, the Bad Boy is the next step up for men who are already experienced in achieving P-spot pleasure.
9. Sliquid Ride H2O Lubricant £12.99
What is it?
Aimed at men, this ultra-thick water-based lubricant is perfect for making solo fun slicker and more pleasurable and is suitable for use with sex toys and condoms.
Why he'll love it!
This thick lube makes enjoying toys, solo pleasure or fun with a partner smoother and more intense. Because it's thick, there's no faffing around with re-application. Specifically aimed at men, the masculine packaging makes this an ideal gift to accompany any boys' toys.
10. Aneros Helix Prostate Massager £38.99
What is it?
The Aneros Helix is ergonomically designed to massage the male prostate gland and stimulate the perineum. Angled to provide immediate pressure and tension on the prostate gland, it requires less patience and practice to achieve P-spot hitting results. It's one of our best-selling anal toys and ideal as an entry-level anal massager.
Why he'll love it!
Prostate orgasms are the holy grail for men - they promise more powerful, fuller and even multiple orgasms. The Aneros Helix has been anatomically designed to require less practice and patience to reap the rewards of P-spot pleasure. An extremely high quality product toy, he'll feel safe and confident in exploring his hidden pleasure zone.
Top 10 Sexy Christmas Gifts For Him Video Guide