London Fetish Weekend 2010 - Top 10 Best Outfits
One of the most frequently voiced dilemas when it comes to public kink is 'What do I wear to a fetish club?'
This year Marcus T and I joined forces to photograph the best outfits of October 2010.
1. Name: Max
Outift: Heveas Heaven
Details: "Heaveas Heaven is my own company and I made this outfit myself. British people think that the Germans have no sense of humour. You laugh and you have fun when you're playing and that's why I'm here, so I decided to be a clown."
2. Name: Calamity Amelie
Outfit: House of Harlot
Details: "I'm here working so I'm wearing the outfit they've asked me to. It's a Sailor Moon/Japanese school girl look."
For a similar look try the Leg Avenue Sweetheart Sailor or the Fever Sexy Pin-Up Sailor Costume.
3. Name: Unknown Pony
Outfit: Unknown
Details: The pony couldn't talk to us with that bit in her mouth, but we thought she looked great nonetheless.
If you like the pony's look, why not try the Leather Pony Girl Harness with Reins?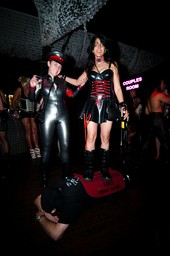 4. Name: Doormat
Outfit: Presumably self made.
Details: Unfortunately dormats can't speak, but we were impressed by the effortless subversion that this outfit conveyed. Clearly effective too, as that lady was having the time of her life stamping all over him.
5. Name: Helga
Outit: Made from things hanging around the house.
Details: "It's an ecclectic mix of things. This, that… swiss sprouts. It's lounge meets space smurf on acid, I'm conveying Metropolis and inner city depravity."
For a similar look try a Fever Zip-Up Catsuit as the basis for your ensemble.
6. Name: Joanne
Outfit: Peccatus Couture
Details: "Peccatus Couture is my own label. This is a clean and classic black and white piece."
7. Name: Adam Anarchy
Outfit: Various pieces
Details: "I'm going for a Mad Max, post-apocolyptic vibe."
8. Name: Natalia
Outfit: Oliver Spiers
Details: "I'd always wanted this outfit, but needed someone to make it. It's of my own imagining."
9. Name: Coche and Lady Miss T
Outfits: Self made
Details: "We are poor folk, so we can only afford to make our own clothes. We were in Manhattan and this was one of the materials we bought in the fabric district. We buy things that make us laugh, so they're always fun."
10. Name: Nightmares and Kinky Minky
Outfits: Lovehoney
Details: "We needed something simple but striking for our first fetish event to test the waters in."
Nightmares wears Sven O Wet Look Jeans and Renegade Rubber Latex Wear Vest.
Kinky Minky wears Le Fetishe Saucy PVC Dress with Buckled Choker Style Collar.