Is it safe to use cooking oil as a form of lubrication during sex?
The ancient Greeks used olive oil as a sexual lubricant, but we really don't need to resort to it today!

Question:
I have seen on some porn websites that they use what looks like cooking oil and was wonderiing if any kind of cooking oil or olive oil is safe for sex? Please can you help me out and tell me which one is best to use?

Julie Says:
The ancient Greeks used olive oil as a sexual lubricant, but we really don't need to resort to it - or cooking oil - today. As well as rotting condoms and toys, it can cause infections and block skin pores.
It will also smell, stain the sheets and generally cause one hell of a mess. If you've seen something oily-looking being used in porn films, it's far more likely to be one of the many commercially available lubes, which fall into three main categories: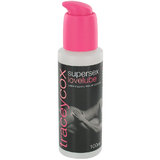 Water-based (like KY, widely used in hospitals) which are the best all-purpose, as they're condom-friendly, suitable for vaginal or anal sex, great with toys - and also very easy to clean up afterwards.
Silicone-based lubes, which are more slippery - and especially popular for anal sex, as they retain their lubricating properties for longer. They're also waterproof – making them great for underwater sex, though more difficult to clean up afterwards. They're OK with condoms, but not suitable for use with silicone toys, as they will rot them.
Oil-based, which are very good for male foreplay or masturbation, but not suitable for vaginal sex. They will destroy latex condoms too (as will Vaseline, moisturiser and baby oil, incidentally).
Good lube is an essential for good sex, so let the only Extra Virgin in your house stay in the kitchen cupboard!
Refreshingly frank and funny, actress and presenter Julie Peasgood delivers practical information to transform your sex life. The Greatest Sex Tips in the World explores the world of eroticism, revealing secrets and techniques that will energise and enhance your enjoyment.