Sexiest Summer Lingerie For Women - 2010
I've been going Hell for leather, lace, fishnet, chiffon, PVC and all mixes in between for the past month. Bonny has clearly been feeling the need for some new knickers as my product list has been filled to the brim with all things lingerie.
This season lace and sheer fabrics feature heavily in our new collections, opting for floaty-light styles and fabrics that will keep you cool as the action heats up. With new ranges from Roxana, Hustler, Dreamgirl, Seven Til Midnight, Music Legs, Sweet Streak and G World you'll be spoiled for choice when you check out our sexy lingerie section.
With so much choice in The Lovehoney lingerie section, there's something for every size, shape and colouring. Here are my top 10 for this summer - a comprehensive list of the sexy ensembles that your lingerie drawer shouldn't be without.
Roxana Lace Bra and Thong Set

This beautifully simple ensemble is classically erotic. I adore the gorgeous lace with large, floral detailing, it feels incredibly soft against the skin. The cut of the bra is another bonus – the slimline triangular shape is flattering for all bust sizes, enhancing the curvature of the bust with a comfortable, wire-free lift.
The petite, pink bows that trim the bra straps and waistband of the thong finish the ensemble off with a subtle, feminine touch with just a hint of colour.

On a separate note, I also think the model is gorgeous and she makes me want to buy the Celine Short Bob Pleasure Wig as well as the lingerie set, although maybe mine would have to be blonde.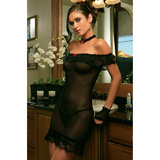 G World Romantic Flapper Chemise - One Size (also available in plus size)

I've always been a sucker for anything sheer and lacy, but the fusion of 1920's style and flamenco frills in this chemise is just too tempting. I love that you could wear this not only as a titillating piece of lingerie, but also as a clubbing outfit with the addition of a slip underneath or some hot pants and a bra if you're feeling daring.

It comes with some little gauntlets and a choker which really seals the deal for me. I can think of several uses for those away from this ensemble, they would look great with an underbust corset and pasties.
Sweet Streak Satin Corset With Front Bow

This satin corset is a little more generous than some of the others in the Sweet Streak range. Marked as one size, it fully closes at 23.5" and is therefore suitable for woman with a waist from 24.5" (as it's designed to reduce the waist by up to 1.5"). There is no modesty panel in this corset, so whatever you can't close into your corset will be on display through the laces at the back. For this reason, I wouldn't recommend it for anyone above a UK 12-14 or 30" waist as the back gap may be a little too large.

The front busk is made from steel and really helps get that extra cinch as well as making the corset easy to get on and off. The bones are made from sturdy plastic and work well to create a beautiful hourglass shape. The fabric is of a nice quality and feels great against the skin on both sides.

It is a little short in the body for me at 5'8" and rather a lot too small in the cup for me as an E, but it still looks amazing over a ruffled shirt. I managed to get this an inch off of closed with a 27" waist – even over a shirt and high-waisted skirt. I would recommend replacing the ribbon lace for something sturdier and taking waist reduction gently so as not to damage the corset.

Comes with a matching g-string in complementing satin with a little, red ribbon bow.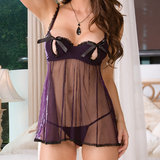 Dreamgirl Knit Chiffon Open Back Baby Doll – Purple

First off, the colour of this ensemble is stunning. It's properly purple, neither too blue or too red. Unfortunately, the photo doesn't quite do it justice. If you imagine a certain chocolate bar's wrapper translated as a delicate chiffon, you're on the right track.

The body of the baby doll and thong are both sheer, but the cups are lightly padded with a lace overlay. I love the peephole bust with the large ribbons, it just looks so sexy and the purple really enhances pinky nipple tones, making them look irresistible.

The open back is a great touch, perfect for bum and leg people, it exposes everything from below the bra strap including the rear of those matching knickers which are decorated with three rows of lace ruffles. A seriously seductive ensemble.
Hustler Barely there 3 piece Peek-A-Boo Garter Set

I'm not usually one for crotchless panties, but for this Hustler set, I'll make an exception! Firstly, the lace is absolutely heavenly. It's made from silky nylon that I can't keep my hands off of. Nothing really emphasises a sexy underwear set like a woman who can't keep her hands away from her naughty parts when she's wearing it.

I've come around to the idea of crotchless knickers with this set as I am an advocate for vintage stockings. I usually hook my suspenders under my knickers so I can keep them on during sex, but with his set – no need. Included is the bra, knickers and suspender belt, so all I need to do is whip out a pair of my finest cuban heels and I'm away. I don't even need to remove my skirt if I don't want to. Just writing about this three-piece set is giving me naughty thoughts.
Dreamgirl China Doll Knit Chiffon Baby Doll

Another new Dreamgirl sensation, this company are becoming one of my firm favourites both in the bedroom and the photo studio. This Asian inspired two-piece is simply gorgeous in the flesh. The baby doll's two-tiered skirts were virtually dancing in the breeze of the air conditioning, it was mesmerising. The frog fasteners are intricate and well made, drawing the eye to the bust which is the main focus of this garment.

I love the elasticated cross-over strap at the front. It really helps to shape the body. Peignoir sets and baby dolls with an empire waistline can often be unflattering owing to their billowing shape. If you were already feeling a little large around the middle, the last thing you want is free-form fabric accentuating the fact. These straps actually slim the waist. The cross over makes the waist appear higher, elongating the body and changing how the skirts flare. It's truly ingenious.

This set also comes with a complementary thong in red mesh.
Coquette Signature Polkadot Mesh Chemise (also available in plus size)
I fell for this one the minute I picked it off of the shelf. The 70's erotica vibe really does something for me - the uniform of a sexual revolution. This little chemise is very housewife-esque, the stay at home harlot who's banging everyone from the milkman to the plumber.

The sheer fabric twinned with the baby pink lace is almost innocent, but it makes me have incredibly dirty thoughts. Definitely one to wear to answer the door to the postman, bring the milk in and put the cat out for the day…. just in case someone handsome happens to be passing by.
Roxana PVC Suspender Corset and Matching G-String
The fetishistic overtones of this ensemble are softened by ribbons, lace and bows, enabling you to tease and torment your lover with the irresistible charm of this PVC corset and matching g-string without scaring them into submission.
Somewhere between the blurry lines of naughty and nice sits this corset and g-string set from Roxana. The mirror-gloss tones of the PVC are offset by the matt, floral seductiveness of the lace cups and the delicate ribbon lacing offering glimpses of soft flesh.
A matching PVC g-string with a satin ribbon waistband and mesh thong back completes the ensemble. Simply attach your own stockings in whichever style takes your fancy and decide how you're going to play tonight.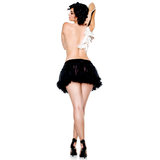 Seven Till Midnight Crinoline Petticoat
The perfect complementing petticoat to our wide range of costumes, but just as sexy worn alone, this mutl-layered crinoline mesh petticoat has oodles of frou-frou frills for a flirty and ruffled hemline with plenty of bounce and swing.
With a satin elasticated waist, this petticoat has plenty of stretch and will easily fit from a 24 inch to a 52 inch waistline. One size really does fit most.
Hustler 2 piece heart mesh bikini set
Boom ba da boom. This mesh set with its heart detailing is somewhere between innocently girlish and deviant sex goddess. I can't decide which. It doesn't really matter, this set does it for me in so many ways. The ruffled cups enlarge the bust yet the ruffled waistband somehow slims the hips. Ingenious! The fabric is stretchy without fault and embraces every curve effortlessly without cutting in.

The set looks stylish, expensive beyond its price tag and effortlessly sexy to boot. I'd happily slip this on to come into the office or to dress up for a night in with a lover, it's one for comfort and sex appeal which is a double tick for my every-expanding lingerie drawer.