The Best Vibrators for Your Handbag
A woman's handbag is a sacred place. A Pandora's box filled with secrets, surprises and the tools of alchemy. So it's surprising that we don't always take into account our sexual health and gratification when packing our weapons of choice.
For all of the products labelled as a 'handbag vibrator' and the reels of erotica in which a dominant woman pulls an arsenal of sex toys from her very small, but clearly well planned-out clutch bag, I still think I'm alone amongst my girlfriends in carrying a petite mini vibe alongside my make-up. It's really time that changed.
Here's my hand-picked selection of the best vibrators for your handbag…
Why do I carry one? It doesn't take a genius to suss that I'm a highly-sexed creature, but there are several other reasons why slipping a bullet vibrator or vibrating cock ring into my bag and leaving it there is a great idea:
Stay elsewhere overnight on a regular basis? No need to panic if you haven't planned - whether you're alone or not.
Any more than a 3 hour train journey and I am officially bored. Popping to a bathroom (as long as it's clean) for a quickie is the ideal way to ensure I sleep through the epically dull experience and will ensure I arrive at my destination happy and rested.
Spontaneous sex is usually the best sex. On the beach, at a festival or in your car – you're prepared wherever you are.
Keeping your vibe / ring with your make-up in your bag or in your wallet will remind you every day about sex. Monkey see, monkey do.
Being reminded every day will ensure you always have a condom in your possession.
There's a wide range of sex toys and complementary products suitable for slipping into your purse for an erotic liaison with yourself or your partner when you're not within arm's reach of a bedside draw. Some will camouflage with the contents of your make-up bag whereas others are small enough for a man to keep in his wallet.
Here are my tried-and-tested handbag friendly vibes and complimentary products to ensure your sex life is as mobile as you are.
---
The babies of the travel vibe family, they are little and seriously high powered. If you like a strong vibration, you'll love the waterproof Ammunition RO-80mm Bullet Vibrator that measures up at just 3.25" but is capable of giving some weapons-grade orgasms. For complete camouflage in a bag, you can try the Tracey Cox Supersex Secretvibe Bullet that has 3 powerful speeds and comes with a discreet and stylish tin.
If you want the full, easy-care package from your travel bullet, I recommend the Lelo Mia Rechargeable Vibrator. Not only does it look like a flash drive, it behaves like one and recharges via your laptop's USB port. Also provided is a satin pouch to hide it from prying eyes. Its sleek design doesn't let down once you power it up, with 4 stimulation settings to bring you to climax.
---
Petite and incognito, there are vibrators such as the Incognito Discreet Lipstick Vibrator that looks exactly like a lipstick and is perfect for residing in your handbag and retrieving whenever you fancy enjoying some stimulating clitoral vibrations.
---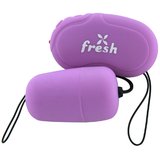 The perfect answer to public play that is certain not to result in criminal prosecution. Click away at your remote inside your pocket or give the power away for spontaneous pleasure at someone else's control. Sexy, discrete and seriously satisfying. The Fresh 10 Function Remote Control love Egg has a controller that looks like an MP3 player and is completely waterproof.
---
These buzzing rings provide extra satisfaction during male masturbation or sexual intercourse, turning your manhood into a living, throbbing vibrator. There are several to choose from, but for on the move the BASIC Sex Toys Love Ring Vibrating Ring is a favourite with our customers. It's disposable, so once you've used it for half an hour you can throw it away. It has glowing testimonials and even comes in its own condom-style packet so it should slip into your wallet or pocket undetected.
If you're a dab hand with vibrating cock rings and want something a bit more to get involved with, try the BASIC Sex Toys Starter Sexy Bits Grab Bag containing a box of 6 pleasure condoms and a disposable vibrating cock ring, a vibrating bullet and 10 sachets of different sensation, soothing or flavoured lubricants. A condom, lube sachet and the cock ring will be easily hidden in most wallets but you may wish to stash the bullet in your jacket pocket to avoid it getting too bulky!
---
Discreet Accessories
There are a few other tempting treats and care-for accessories you can slip into your bag to make your handbag sex pack complete. You already have your way to the big OH! but you're going to want to warm up and wipe down.
These ID Juicy Lube Tubes look just like lip balm or gloss and wont arouse suspicions, there are 10 different flavours to road test and are great for oral for him and her.
A must-have for the girl on-the-go, Durex O Play Gel can be popped in with your cosmetics. The 15ml bottle is small enough to go undetected, but the smallest amount heightens your pleasure to sky-high levels. Users have reported increased sensations and multiple orgasms. Sceptical? Check out the reviews our customers have given this legendary gel.
Finally, If you're playing out and about, you're going to want to be able to clean up after. These Pjur Med Clean Fleece Tissues will clean you and your toys up leaving no trace of your dirty deeds, one wipe is all you'll need to clean up you and your toy. They aren't labelled as naughty wipes and look just like baby wipes, so no suspicions will be aroused by their presence.
---
You may also like:
Bullet Vibrators | Mini VIbrators | Remote Control Vibrators | Vibrating Cock Rings