Reading To Your Lover In Bed Improves Your Sex Life
I picked up on this article in The Daily Mail advising that a bedtime story is the perfect aphrodisiac!
"Seven in ten men regularly read to their wives and girfriends to help them relax before going to sleep, a study found." Where are these men? I'm jealous! Ah, apparently only 64% of men in the South West of England do this, hmph!
Well, even if your partner doesn't get Jackanory with you every night, you can still take advantage of the new, steamy erotic fiction we've added to our library.
For Fantasy Fans: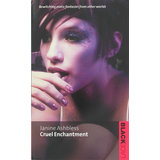 Cruel Enchantment
Winged demonesses, otherworldly lovers and a dragon with an enormous sexual appetite collide with spoiled princesses, spell-weavers and wicked ancestors in Janine Ashbless' fantastic tales of lust and magic. With 11 short and highly erotic short stories to read or have read to you. Reviewed with 5 stars by LadyVelvet as "very hot" and "very erotic".
For BDSM Fans:
Leah's Punishment
Leah – a petite, brave and comely slave, innocently attracts the covetous attentions of the jealous steersman on her master's boat and precipitates a chain of predicaments over which she has no control.
Following a night of erotic retribution by her obsessive mentor, she is abandoned to the appetites of strangers at the mysterious Tithe Retreat. But her attempted escape serves only to propel her deeper into the bizarre and exacting realms of intemperate sexuality.
Kittyness rated the read with 5 stars saying; "From the very first page, there is enough to make even the most unimaginative person quake at the knees. It's an excellent book, containing scenes of pure horniness and a very twisted love story."
For The Beach And Summer Sun:
The Devil and the Deep Blue Sea
Hilary and her girlfriends rent a country house for their summer holiday. Yet they're not there for rest and relaxation, they're there to experience the pleasures of secretive owner Darius Harwood and the well proportioned Norwegian sailor – Haldane.
Intrigued by the sexual allure of two very different men, Hillary can't resist exploring the possibilities on offer. But those opportunities for misbehviour quickly lead her into a trick situation where a difficult decision has to be made.
Kazzab said; "This is a book to pass on to your daughters. Buy it now while you have the chance."
For Quickies:
Sex in The City – London
In the first of this city-based series of outstanding erotica, the home town of Charles Dickens and Sherlock Holmes reveals its sexiest side.
Behind closed doors in residential Richmond, a private gathering regularly enjoys the company of submissive girls. At Blackfriars, a female commuter relinquishes control and surrenders to the kinkiest part of herself. Imagine having the ability to become someone else after exploiting stolen luggage from Heathrow's Terminal 5. In Soho, one girl's kidnap fantasies cross the line into something more than a daydream.
There are plenty of sexy books in our book store to browse suiting a wide range of erotic palettes. If you've never given sexy storytime a go, take a leaf out of this article and roadtest the theory for yourself. Especially if you're in the South West!