Resourceful Roleplaying - A Beginner's Guide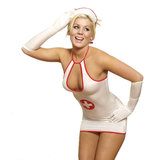 In the past month Lovehoney has gone costume crazy with a plethora of sexy and stylish ensembles turning us onto the idea of playing dress up. Roleplay is still a relatively new concept in most relationships and I want to lift the veil and get intimate with the idea of dressing up for sex.
Roleplay is an exciting and easy way to inject some new passion into your sex life. I'm not talking about a quick fumble behind a Jack-O-Lantern at the annual Halloween bash, but planned scenarios involving dialogue, plot, characters, props and costumes.
There are an infinite array of possibilities for subject matter when you're thinking about roleplaying with your partner. You may already have a fetish that connects with your chosen scenario; uniforms, medical play and cross dressing to name but a few. You may not have any idea where to start or you may have tried and failed to get going due to a lack of planning. In this Blog, I'm going to explore some of the more common themes including the characters, plots, accessories and costumes to help steer you toward a satisfying roleplaying experience.
You should remember that roleplay is only successful when all participants are happy with how the scenes will be played out. You should always discuss scenarios with your partner to ensure that you are both at ease. When trying new scenes, have a safe word to ensure that you can steer the play away from an area of discomfort without breaking character. It is wise to run through every scene and how it will play out before you begin, just don't go getting carried away with one another before you get dressed up!
With all of this in mind, I'd like to run you through a few of my favourite roleplaying games:
The Secretary and The Boss

The Characters: The office secretary is submissive to the boss, as is natural in an office environment. The secretary is used to taking orders from the boss and therefore is prepared to do as asked. The boss steers the roleplay sexually and the secretary can either be willing, objective or dominant once propositioned.
The Scenario: Your boss has asked you to work late. There's a BIG project on and you're going to be required to put in some extra work after office hours.
Scene One: After some knowing glances and a few brushes against one another, things are feeling tense in the office. As the secretary leans over to pick up something on the other side of the desk, her bent form ignites lust in her boss that he can't ignore and he leans in for a closer look. The secretary is willing and able to give him much more than the weekly reports.
Scene Two: After being asked to stay late, the boss' advances are becoming more and more obvious. When he leans over and 'brushes' against her thigh when 'trying to file something' the boundaries have been crossed and the secretary confronts her manager. He is charasmatic and charming, articulatly explaining her desires. Will she be weak at the knees for his words or will she fight until the bitter end and show him some proper respect?
The Costumes:
The Fever Secretary Set. This pinstripe dress with attached suspenders also comes with a pair of squared glasses. Stockings are not included and should be purchased separately. Perfect for the role of boss or secretary.
The Exposed Very Private Secretary Costume.This tiny two-piece contains a tie-up top and grey, striped shirt screams submissive secretary.
The Setting: If you aren't lucky enough to have your own office space to play in, try dressing the living room, dining room or bedroom to look office-esque. Piles of paper, laptops, a telephone, stationary, charts and reports will help set the scene. Make the setting feel more tense and alluring by calling the secretary into the office and locking the door behind her once she enters.

The Props: These Silver Handcuffs can be slipped into a desk drawer without raising suspicion and are great for impromptu bondage. An improvised, fabric gag such as a tie will make a great noise muffler to ensure that the rest of the office building isn't suspicious.
Doctors and Nurses

The Characters:Doctor, Nurse and Patient.
The Scenario:There are two scenarios that can be entertained – either a Doctor and Nurse or Doctor/Nurse and Patient fantasy. When roleplaying with a Patient, the Doctor or Nurse are usually dominant characters who will lead the actions in diagnosing, treating or caring for the Patient. When played opposite one another, the Doctor and Nurse can power play.
Scene One:Doctors and Nurses have notoriously long hours and precious few minutes to themselves during their shifts. In between rounds, supplies need to be collected. The Doctor and Nurse find themselves in a rest room or supply cupboard at the same time. The sexual tension is obvious and a little work banter soon leads to an inappropriate liaison.
Scene Two: The Doctor/Nurse is attending a particularly sexy Patient in a private room. An examination or sponge bath might be necessary to see the Patient back to full health, but the sight of that body and perhaps a little too much enjoyment from the Patient leads to a full on sexual encounter.
The Costumes: The Sweet Streak Sexy Vinyl Nurse Costume is wipe clean! Whereas Leg Avenue's Sexy Nurse 3 Piece Costume is a more classical outfit with a sexy dress, hat and stethoscope combo. A lab coat for the Doctor and a sweet yet seductive night dress for the Patient such as Music Legs' Polka dot Mini Dress with Soft Lace trim are ideal.
The Setting: Few of us are lucky enough to have our own little Medi-Bay but luckily hospital settings can easily be mimicked in the bedroom or bathroom. Place the contents of your fist aid cabinet around the room and maybe even print some X-ray photos from Google for added realism.
The Props:Various medical devices can be used to assist in investigating the Liaison or enhancing the experience between the Doctor and Nurse. This Stethoscope will help check out the Patient's heart and chest. Time for a sponge bath? Try this vibrating body sponge. These Medi-Touch Disposable Latex Gloves are a must for hygiene and this ID Glide Lube Squeeze Bottle will do the trick for expediting examinations inside and out.
The School Girl And The Authority Figure

The Characters:The only defined character in this scenario is The School Girl. A School Master/Mistress, School Boy and Babysitter are common counterparts.
The Scenario:In most scenarios, the character playing opposite The School Girl is dominant to the School Girl's submissive. The School Girl herself can make an excellent dominant, especially when playing opposite someone of her own age.
Scene One: Detention. The School Girl has misbehaved in class and put into detention. Left alone with The School Master / Mistress, she must be ready for her punishment and corrective lessons to ensure that she never misbehaves like that again. Tools of discipline and corporal punishment are commonly incorporated with this scenario.
Scene Two: The Bad Babysitter. The parents are out for the night and The School Girl is just too badly behaved to be left alone for the night, so a babysitter has been called to entertain her for the night. After a few chores and some games, the School Girl gets bored and decides she's going to seduce her Babysitter with risqué motions, dialect and bad behaviour. Tease and denial works wonderfully with this scenario. Phrases such as: "I'll do it if you…" and "If you don't do it, I'll tell my parents that…." are a great way to lead the play from nice to naughty.
Scenario Three: The School Boy and The School Girl. A game of innocence and exploration. Discovering each other for the first time, they are tentative and pure. Both participants can lead play which makes for an interesting and honest commentary on one another's bodies and what feels good.
The Costumes:Focusing on The School Girl, there are a variety of costumes that can be picked depending on the type of School Girl you want to be. For posh, preppy head girl, try the Dreamgirl Charm School Drop Out Costume. The Music Legs One Piece Foreign Exchange Student encourages the use of accents and mistranslations leading to sexy consequences whereas our Classified School Girl Set with Boater screams English student.
The Setting:The Classroom is a favourite for School Girl scenarios and this can be readily recreated in most available rooms with the addition of some learning aids. A home environment is already perfect for your babysitter scene and for a daring twist, why not try the School Boy and Girl in the garden.
The Props:Grab the kitchen blackboard and pop it up on the wall of your chosen room along with some educational books and maybe a globe. A red pen is also a must to grade those answers to your quizzes and a sting from this Rattan Cane will ensure that the answer is remembered next time! Candy works as a seductive treat for bad Babysitters and School Boys looking to curry favour.
Pirate Princess Goes Pillaging

The Characters:The Pirate Princess and the Land Lover. Another great game for a power struggle, building tension. There is plenty of room for bondage and corporal punishment for both parties as well as enforcement and escapism.
The Scenario:The Pirate Princess is a mean and fearless buccaneer at home on the sea and in search of treasure and adventure. The Land Lover is native to the shores and ready to protect their booty, but unfortunately for them, the Pirate Princess will prove a little too much to resist. At the same time, the Land Lover has no real desire to have their possessions taken, so bargaining and a little rough play is on the cards.
Scene One: The Pirate Princess asks for bounty in exhange for the Land Lover's life. The Land Lover, overcome by the Pirate Princess' beauty, attempts to bargain with her. He offers her his body instead of his possessions. The Pirate Princess agrees, but intends to to have his possessions away too once she's finished with him. Better make sure that land lover is incapacitated to avoid another struggle!
Scene Two: The Pirate Princess bursts into the abode of the Land Lover and seeks to steal all that is his. She attacks and a struggle ensues, but she did not bank on this Land Lover being so strong and verile. He defeats her and takes her for his own
The Costumes:The Sexy Pirate Princess is open to interpretation. This Value Sexy Buccaneer Pirate Costume has a 5 star review from our previous buyers for sexiness and quality and the Fever Pirate Treasure Outfit is girlish whilst making wonderful sea dog fare. These Bijou Boutique Pirate Panties and Thigh High PVC Pirate Top Stockings are the perfect undergarments to pair with your costume.
The Setting:The beach or garden make perfect outdoor settings for such a scenario (just watch out for nosey neighbours and passers by!) but for a safer option, the hall or back entrance to the house make a perfect place to start play as the Pirate Princess will need to enter your home in order to plunder and pillage!
The Props: This Pirate Eye Patch and Earring will make a Pirate Princess a little more mean and practised at fighting battles. The How To Be A Pirate Accessories Set contains everything you need to accessorise a Pirate costume including a cutlass, eye patch, hook and telescope. Chocolate gold coins make for great treasure and this ship-style Bondage Boutique White Hemp Bondage Rope (10m) will ensure the captor doesn't escape once taken prisoner!

The French Maid And The Employer/Guest

The Characters:The French Maid is employed by the head of the household or by a hotelier. Dressed seductively and with a passion for everything that is clean, this irresistible, French vixen can't hide her allure and is the object everyone's desires.
The Scenario: The maid is at work when she is interrupted. Things then take a turn for the sexier.
Scenario One: The head of the house has been longing for a chance to get better acquainted with his help. After finding something cleaned not quite as well as he'd like, he finds the perfect excuse to discuss the maid's position and renegotiate her terms. Either she does better at pleasing him or she will unfortunately have to be replaced.
Scenario Two: A guest arrives back at his hotel room after heading out for breakfast. He returns to find the maid at work having just cleaned the bathroom. After some mild flirting in that delicious French accent, the guest has other things on his mind when the maid turns her attention to making the bed.
The Costumes: There are so many sexy French Maid costumes in stock that it was hard for me to pick just a few! This Dreamgirl Red diamond Parisian Maid Outfit caught my eye as it is unusually themed in black mesh and pink lace. Barely covering the body, it's impossible not to be turned on both wearing and seeing this number in the flesh. The Music Legs French Maid Set is classically styled in black and white with alternating layers of satin and lace for a tactile experience. It even comes complete with a feather duster!
The Setting:Any area of the house is suitable for the first scenario whereas the second will need to take place in the bedroom to emulate a hotel setting.
The Props:Cleaning products don't all need to be boring. This Bondage Boutique Fluffy Feather Tickler feels delightful when brushed over the skin and compliments a Maid's costume beautifully. A frilly garter such as the Classified Lace Garter with Diamanté Bow makes an excellent place to keep tips.


Of course, my suggestions are by no means exhaustive, nor are they the full spectrum of ideas for the costumes mentioned in this Blog. The key to successful roleplaying is talking through ideas with your partner. As you discuss themes and plots together, you'll learn a lot from one another about what turns you on, physically and psychologically. Before you know it, you'll have written your own personalised erotic screenplay and I can assure you that motivation to act out your fantasy will be far from lacking!