How to Turn an Electric Toothbrush into a Vibrator
Many men and women have experimented with household objects whilst exploring their sexuality and it's not uncommon to hear of ladies enjoying anything that gives a good buzz - mobile phones, the washing machine, even their electric toothbrushes!
Powerful and oscillating, it's no wonder that so many women turn to their electric toothbrush in their time of need! As these things aren't specifically designed for intimate play, using them can lead to injury or your beloved piece of vibrating technology ceasing to work.
Don't take the risk of ruining your brand new toothbrush head and purchase something small, discreet and specifically designed for erotic usage instead.
How Can I Turn My Toothbrush into a Vibrator?
Yes! If you haven't heard of the Tingletip, you're missing out. This special massager fits directly onto almost any toothbrush that takes replacement heads and gives you strong single-speed vibrations directly to your clitoris.
Although the Tingletip isn't a vibrator on its own, when combined with your electric toothbrush it is one of the best around. You really will be amazed by what this tiny device can do.
Great for using alone or as a couple, this is a toothbrush vibrator that is discreet, inconspicuous and unobtrusive, making it perfect for those who want to keep their sex toys secret. It can be used anywhere on the body but the smooth disc shape feels particularly great against the clitoris, nipples, perineum or underside of the penis.
Any Other Tips for a Toothbrush Vibrator?
Lubrication, Lubrication, Lubrication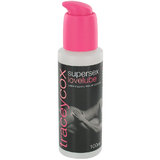 As your toothbrush is so incredibly powerful, you'll want to use a lubricant with it to prevent any injury or discomfort. As the Tingletip is made of solid plastic (as is the majority of your toothbrush) you can use absolutely any lubricant with it, but we recommend a thick water-based one.
Apply a touch of Tracey Cox Supersex Love Lubricant to your body before playing with your toothbrush vibrator and the sensations will be exhilarating!
Alternatively, why not try a tingling lubricant such as Durex Play Tingle Personal Lubricant. Not only is it a very apt lubricant for your Tingletip Vibrator, but it will increase your enjoyment tenfold too.
Keep it Sparkling and Clean
One thing that you must be careful of when it comes to toothbrush vibrators is cleanliness.
Your vagina is delicate and any changes in acidity or exposure to unusual fluids (we mean toothpaste, you naughty lot!) will upset the pH balance. This can lead to discomfort, irritation and even thrush.
Use a few sprays of Lovehoney SQWERTY Advanced Sex Toy Cleaner to dampen a clean cloth then wipe down all the surfaces on your toothbrush and your Tingletip. Rinse your cloth with warm water then wipe your toothbrush down again, making sure to focus on any parts that come into contact with your body. Pat dry and your seductive stimulator is good to go.
Make sure that you follow this cleaning routine before and after using your toothbrush vibrator to prevent any possible problems. Then you can safely relax in the knowledge that your new favourite vibe is clean, safe and amazingly orgasmic!