Design A Sex Toy 2009 - Judgement Day
From July to December 2009, I had the pleasure of watching my inbox fill with entries for Lovehoney's Design A Sex Toy Competition.
From the erotic to the exotic, the wacky to the how-in-the-heck-did-someone-think-of-that, over 500 would-be sex toy inventors embraced the challenge.
Sadly there could only be one winner, so it was time to get brutal and bring on the judges!
Having discarded entries based too closely on existing sex toy designs and those that were just too vague, we dispatched our expert judging team to a top secret location in London and refused to let them out until they'd chosen a worthy winner!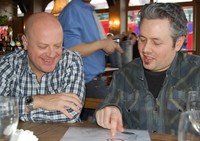 So what were they looking for?
Following the global success of Sqweel - brainchild of judge Trevor Murphy and winner of the last Design A Sex Toy competition - originality was a key criteria.
Equally as important was function and orgasmic potential. It might look great on paper, but did it have the O Factor?
Practicality was also a major consideration. A giant vibrator crafted from gold, encrusted in diamonds, able to bend in half and suitable for men and women may sound like a dish to die for, but would it work in reality and could we manufacture it at the right price?
Finally there was only one design left on the table…



Keep checking the blog for more information on the Design A Sex Toy 2009 competition and to find out our winner!