An Interview with Sex Blogger Extraordinaire Jamye Waxman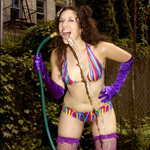 If you haven't heard of Jamye Waxman, M.Ed. then you're missing out! Not only is this woman smart, sassy and a sex toy guru, but she is one of the best sex bloggers and writers on the scene.
When she's not video-blogging her way around the sexiest trade shows in the world, Jamye is educating people in her unique workshops and preaching the naughty word across numerous sites, newspapers and magazines, including Playgirl.

If there's anything you want to know about sex, sex toys or how to get a Sony Cybershot to work, Jamye is your woman…
Carly -What is your favourite thing about being a sex expert?
Jamye Waxman, M.Ed. - I like to think of myself more as an educator and a facilitator of sexual conversation. Expert implies that I know more than you, and while I may, you may love sex so much that you know a lot too. That being said, my favourite thing about being in the field of sexuality education, and facilitation, is that it's a subject that is, at some point or another, on everybody's mind (or maybe it's a tingling in their pants). I love that this is a topic that spans all generations and all types of people, regardless of their economic, social, religious, race and cultural backgrounds. Sex transcends all that jazz. It's something innate within us, and it's something we get to cultivate in our lives for as long as we choose to. And I love that it's a topic that will never grow old, even when we do.
Carly -And your least favourite?
Jamye Waxman, M.Ed. - I don't love that lots of people who don't know me think that the only thing I define myself by is sex. Like that that's all I am, all I want to do, all I want to talk about. And I don't love that people think because you're comfortable talking about sex, that you must want to do it with them or that you are completely wild and crazy in bed all the time. I have my own issues around sexuality, which is one of the reasons I got in this field, and I'm always learning… and no, I don't want to sleep with you just because I love sex.
Carly - As a woman of many talents (sex educator, writer, video host, blogger, agony aunt), is there anything you don't do already, that you're considering branching into?
Jamye Waxman, M.Ed. - I'm thinking of going back and getting my ph.d and either doing more research or also I'm thinking of taking the legit. Therapy route. I really love helping people, and all I want to do is make people more comfortable with themselves and their sexuality.
Carly - You have worked for the world-famous sex shop Babeland. How did you find the retail side of the sex toy industry?
Jamye Waxman, M. Ed. - I loved working in retail because it was a way to connect with the consumers of sexual information, the ones I write books for, or make movies for, or do my workshops for. I always looked at selling sex toys as an extension of sex education. That I was there to educate people on new ways to explore their sexuality or to encourage them to enjoy the ways they liked to explore it. But then there's the sales side. We didn't make commission, which I think was a really great thing, so we didn't have to push expensive products to get a good pay-cheque, but we were still a store and our goal was profit. Honestly, I never thought about profit or what I was making for the store each day. I just thought about how if a person walked out feeling better, more "normal" or excited about sex I did my job. I let others worry about the figures.
Carly - Your recent blogs and videos about AEE 2010 show some weird and wonderful sex toys. Has there ever been a sex toy or product that you just don't 'get'?
Jamye Waxman, M. Ed. - Yes. If you want a specific - here's one. The Blowguard. I get it. I get that not all guys want teeth when they get head, but something that looks like the impression making machine you get from your dentist's office, I don't get that. NOT SEXY. And it tastes gross, it's made from less than high quality materials, and it looks so strange.
Carly - As one of the most educated and professional sex experts around, do you ever get the giggles when talking about something rude or have you built up a desensitisation to it all?
Jamye Waxman, M. Ed. - I think I'm way to desensitized when it comes to sex. Like I'll be at a restaurant, and I have a loud voice, and I realize I'm talking really loudly about how to have comfortable anal sex, or I'm at dinner with my family and I'm discussing a new vibrator that costs over $100 dollars. I give sex toys as gifts to all my friends. I talk openly about making movies, and I still wonder how this Jewish girl from Long Island starting filming sex. I don't get the giggles much because I don't want to make anyone feel uncomfortable with their sexual choices (unless they're illegal, but then I wouldn't giggle). I want people to feel safe around me, and so I make a lot of eye contact and talk like its all okay.
Carly - Finally, what is the top piece of sex advice that you can give Lovehoney readers?
Jamye Waxman, M. Ed. - Enthusiasm is free and it makes sex better. So, love what you do and do what you love. The more you can be the head cheerleader when giving head, masturbating, having sex, making out, the more you'll be into whatever it is you're doing.


Jamye Waxman, M. Ed. is a sex writer, author, blogger, video producer, host, director and agony aunt. Her most recent work includes the brilliant 101 Positions for Pleasure film and an intriguing video blog about talking sex dolls.