We-Vibe - Ultimate Couples Sex Toy Explained
Seen in numerous magazines, the We-Vibe II Clitoral and G-Spot Vibrator is a revolutionary product that can be worn during sex for double stimulation and double the fun!
Made of skin-safe materials and ergonomically shaped to reach both the G-spot and clitoris, the We-Vibe is a great way to spice up your sex life whether you're alone or with a partner.
If you want to find out more and discover the tips and tricks to spice up your play time, read this simple We-Vibe guide for more information.
We-Vibe? Yes, you do!
The We-Vibe II is a sex toy that can be used for solo play but it really shines when it's used with a partner.
If you struggle to orgasm from penetrative sex, if you find that your libidos don't match or that one of you finishes before the other, the We-Vibe II will help to resolve these issues so you're both satisfied.
Shaped into a smooth 'C' the We-Vibe II consists of a small end with a flat bottom that sits inside the vagina, resting against the G-spot and a larger end that sits outside the vagina, resting against the clitoris.
Two vibrating motors are located in each end with a single button to control the vibrations in both. Powerful yet discreet, the multispeed vibrations, pulses and steps add enough variety to keep you coming back for more.
Once it is in place, you can turn the 9 different function vibrations on and your partner can penetrate you alongside the We-Vibe. The intense sensations will be directed to her hot zones but he will get some of the incredible sensations too!
The unique shape, exciting functions and ease of use allows your bodies to synch up with each other, bringing you both the satisfaction you crave.

I've got no strings to hold me down!
One of the unique features of the We-Vibe II is that it is complete free of external wires or strapping.
Unlike other sex toys which need to be held in place with a harness or activated via a wired controller, the We-Vibe is held inside you using its gentle clamping technique and has a single button on the body of it to activate the vibrations.
By gently opening the We-Vibe II into an 'L' shape, it can easily be inserted and the incredible flexibility means that it will go back to its original shape once you let go, holding it in place.

Hints and Tips
Some people really struggle with the We-Vibe and find that it doesn't feel quite right to them but we've discovered some great little tips that should help you to realise why this is such a superb sex toy!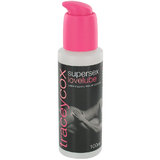 - Make sure to use lubricant! The We-Vibe II is made of super smooth silicone and will require a water-based lubricant to insert it. You might also like to apply lubricant to the clitoral pad and your partner's penis too.

- Are you using it the right way round? The We-Vibe II does look very similar on both sides but make sure that the correct pads are on the correct body parts! As a quick hint, the button for activating the vibrations should be on your clitoris.
- Play with the We-Vibe II on your own before enjoying it with a partner. Different women have different anatomies, so making sure the vibrating pads sit on both the clitoris and G-spot will take some time and can be a bit of a passion killer!
- Make sure the We-Vibe II is fully charged before use. Although it will retain battery life for a long time, to experience the most powerful vibrations you will need to keep it completely charged.
- If you find that one of you climaxes quicker than the other, then the We-Vibe will work fabulously for orgasm-building foreplay. Insert it gently in your partner, set the vibrations to their favourite setting and let your hands, lips and tongue explore all their other erogenous zones.
- Don't forget to clean your We-Vibe II after use! Using warm soapy water and a lint-free cloth, you can keep your We-Vibe II hygienic and in perfect working order for years.