Lovehoney And Sqweel Wow The Crowds At Erotica 2009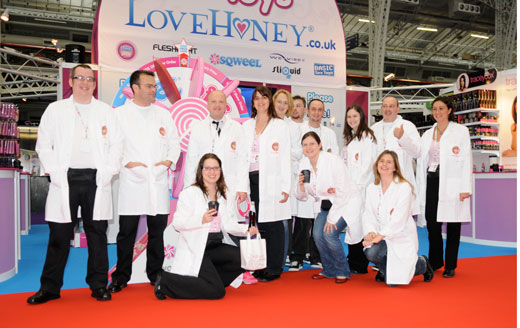 Lovehoney had a great time at the Erotica 2009 exhibition this weekend, wowing the crowds with our unique-in-all-the-world Sqweel of Fortune, Dildo Hoopla, Rabbit Wall, X-rated Photo Booth and Fleshlight Wall.
And, of course, our fantastic products including the Sqweel, the UK launch of the new We-Vibe II, our massively popular Tracey Cox Supersex Range, Sliquid Lubes and Durex Play and a whole lot more.
A massive thank you to everyone who came to the Lovehoney stand to play our silly games, buy our toys or just to say hello. It was great to meet you!
Erotica is the biggest sex show in the UK and is a great place to go if you've never bought a sex toy before. You can get your hands on lots of different products and, of course, on the Lovehoney stand our friendly, knowledgeable staff are there to help explain what they're all for.
That's us up there in the picture - from left to right: Jeremy, Richard (me), Kirstyne (kneeling), The Prof, Paula, Jo, Andy, Carl, Bonny (crouching), Carly, Joy (kneeling), Sean (gurning) and Flavie (wondering what the hell she's let us in for). And not pictured are Shelley, Ruth, Wojtek, Mike, Dusan and last but by no means least, Joseph (who left his Amazing Technicoloured Dreamcoat at home).
And also big big "THANKS!" to Dean from Sliquid, Tracey from Tracey Cox (both pictured centre left), Bruce from We-Vibe, and Sqweel inventor Trevor Murphy and his mate Shane for being there for us.
Thank you to all the Lovehoney staff who made it happen - you did us proud!
More Erotica happenings and pictures after the break…
Self-congratulatory back-slappery warning: the smash hit of the show - even if we say so ourselves - was the Lovehoney Sqweel, our unique new oral sex simulator.
Sqweel is a rotating wheel of ten silicone tongues, designed to lap you to orgasm at three different speeds.
We took it upon ourselves to create a giant version, aptly named the Sqweel of Fortune, which show visitors could come and spin to win a prize. A few wondered whether they could strap themselves to the side of it after hours…
Up there, Sqweel inventor Trevor Murphy is about to give the Sqweel of Fortune its inaugural spin, to show off in front of one of his new best friends, Stunna of the Year Krystal Webb, who we (repeatedly) borrowed from The Sport stand next door.
We gave away a good few hundred Lovehoney Pocket Vibrators vibes as prizes, along with fistfuls of 10% show discount vouchers and even a couple or three star prize Sqweels.
Sqweel was such as success that we sold out twice, which made Trevor a very happy man given that he came up with the idea for the first Lovehoney Design A Sex Toy competition.
If you've got an idea that you think can repeat Sqweel's success, you've got until 31 December to enter. Be quick!
Meanwhile over on the other side of the stand, we had the Dildo Hoopla, Lovehoney's remote control vibrators and We-Vibe II on the left, and other Lovehoney Vibes on the right.
Right by the tills were Death by Orgasm and three-for-a-fiver BASIC Sex Toys, which proved to be hugely popular stocking filler and Secret Santa purchase.
It was a cruel trick to tell Sean to get there 2 hours before everyone else, but at least he had plenty of time to restock the shelves from the day before. Even if he didn't have anyone to talk to.
During the show, the Professor was busy getting people to roll-up, roll-up to have a toss on the incredible Dildo Hoopla.
The game is just like what you used to play at the the fairground (and just as hard), except you throw the hoops over Prince Charming Dildos rather than goldfish bowls.
Tossers won a prize every time. The biggest tossers won even bigger and better prizes. Some even won a Jessica Rabbit Vibrator and went home with a big smile. There was pretty much a constant (though orderly) queue to play it throughout the three days of the show.
One imaginative visitor (who said she works in marketing) suggested that we should have called it "Cock-A-Hoop" - great idea - come and work for us!
The Fleshlight Wall was enormously popular again. For the uninitiated it is quite literally a wall into which we have delicately thrust 20 Fleshlights so people can lube up their fingers and come and have a poke.
Reactions ranged from utter shock to strange fascination to "Where can I buy one?" The answer being, of course, from Andy on the other side of the wall. We did a roaring trade in the new Fleshlight Vibro Vibrating Fleshlight.
So thank you once again to everyone who visited and everyone who worked… See you again next year!