UK Sex Map - How Sexy Is Your Town?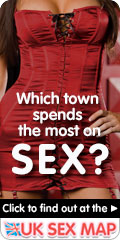 Lovehoney's fantastic UK Sex Map has just been launched!
This nifty little online gadget lets you type in your town and find out exactly where it ranks in the sexy spending stakes.
Not only is it a great way to find out what the naughty gossip is in your town but it's brilliant for figuring out new trends, deciding where to go out on the pull and learning all sorts of fun facts to wow your friends in the pub!
In fact, one of the most interesting things we learnt from creating the UK Sex Map is that Upminster is the sexiest town, spending a whopping 10.8 times the national average on naughty products!
So what is so special about Upminster? Well, not a lot.
However, we did discover that the rather gorgeous Paul Sculfor lives there.
This builder-turned-model has dated some of the most stunning women in the world including Jennifer Aniston, Cameron Diaz, Lisa Snowdon and Lady Victoria Hervey.
How did this Essex brickie woo all these beautiful ladies? With naughty gifts, of course! People in Upminster spend 10.1 times the national average on sexy gifts and 11.2 times the national average on vibrators.
May we suggest a gorgeous JimmyJane vibrator for Mr Sculfor's next date?

Check out the UK Sex Map now and let us know how your town rates!