My Vibrator and I - Why You Should Be Proud of your Sex Toys!
Everyone has those creeping feelings of guilt that occasionally turn up at the most inopportune times, normally just after a masturbation session that occurred when really you should have been doing your tax return…
Kristine Deguzman of the Daily Californian newspaper has written an article which aims to explain why you should be proud to use sex toys and their benefits to you!
As Kristine explains:
"I really like to masturbate. There, I said it. Sometimes all I want to do after a long and stressful day is go home, whip out my vibrator, put on some porn and have a few orgasms.
I think all you ladies should possess your own vibrator to use from time to time. Perhaps something small and unobtrusive, like bullet vibes, which are discreet enough to carry around in your purse or pocket. Or perhaps something fun and fancy, like Rabbit vibrators, which come in a variety of sizes and colours to suit your more particular tastes."
We here at Lovehoney totally agree. Whatever you're into, there is a vibrator to suit your needs. Most people start off with something simple like a bullet or classic vibrator, such as the Lovehoney Bang Bang Bullet Vibrator.
Once they get used to the sensations this creates, they may choose to explore further and buy something a bit more varied like a Lovehoney Jessica Rabbit 2.0 Rabbit Vibrator which has numerous vibrating speeds and a squirmy, dual-directional shaft so you can have both clitoral and internal pleasure at the same time.
Kristine goes on to explain:
"Oh, and just in case you didn't know, girls are capable of having two different types of orgasms: clitoral orgasms and vaginal orgasms. (That's right, boys, not only can we have multiple orgasms, but we can also orgasm in two different, yet equally amazing ways. Don't be too jealous.)
However, vaginal orgasms often require stimulation of the G-spot, and therefore would probably entail use of your hand or a well-shaped vibrator. I'll leave that up to you to discover for yourself though!"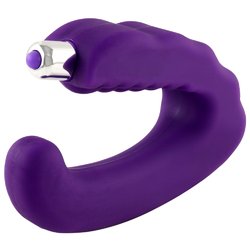 A brilliant sex toy for stimulating the G-spot is the Vibrating Rock Chick. This curved stimulator is designed to create some very sexy internal sensations whilst still providing strong vibrations to the clitoris too.
You can use it hands-free by inserting it then rocking on the angled base or you can slide it in and out to provide full stimulation to the vaginal wall.
Whatever vibrator you decide is right for you, you'll find it here at Lovehoney!
And as Kristine says:
"Because if you can't get yourself off, how can you expect someone else to do it for you?"