Bizarre but Highly Rated Sex Toys!

Jessie Whitfield of the College Times spent a little time recently looking into the world of sex toys and then devised a list of the Top 10 Craziest Sex Toys that she could find!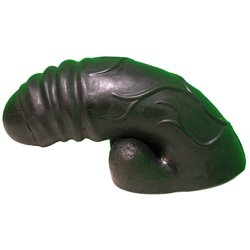 Number 1 on her list was the Doc Johnson Dick Rambone Cock, a highly rated sex toy that is rather intimidating in size!
A full 13.5 inches of insertable length and finished with a great and grippy suction cup, this is a toy that will satisfy anyone that hungers for just that little bit more!
Although, if she was looking for a truly gigantic sex toy, she should have nominated the Super William Giant Dildo for pole position with its impressive stats of 16 inches of insertable length, 17.75 inches of circumference and 8 kilos in weight!
Number 4 on her list is the Double Dong with Balls and Clitoral Stimulator - the perfect toy for sharing the fun.
Each side has 7.5 inches of insertable length and once you reach the base you get dual stimulation from the soft and supple testicles and perfectly designed clit teaser!
Number 5 on Jessie's list is the EZ Rider - a blow-up ball with an attached Vac-U-Lock plug for attaching any of the Doc Johnson Vac-U-Lock dildos to!
Simply lube your choice of sex toy up and slide it on the plug. Once on, you have the choice to rock back and forward on the ball or bounce up and down, for some seriously sexy sensations!
Though they may seem crazy in concept and bizarre to look at, most of these sex toys actually come with very high ratings and numerous recommendations from customers who have already bought them.
So while they may be weird, they're certainly not lacking in the pleasure stakes!