Girl With A One Track Mind's Top 10 Sex Toys for Women
Sex blogger Abby Lee, aka Girl With A One Track Mind, found fame with her super-candid sexual diaries. In equally candid fashion, she's here to reveal her top ten sex toys!
I'm not sure what impressed me more with this vibrator: its unique design or the fact its internal battery can be recharged via mains electricity. Either way, it's the Ferrari of sex toys: it has an almost silent - but very powerful - vibration; goes from 0-60 in seconds; has a deliciously pleasurable combination of soft and firm silicone to press and rub against your g-spot and clit; and it features a variety of multi-speed pulsations. In other words: it's awesome. Highly recommended.

The Rock Chick design is remarkable: aesthetically, it is pleasing to the eye and its non-phallic appearance is always helpful if you want to pop it into your suitcase when going abroad. More importantly though, it works, and manages fantastic dual stimulation, with strong pulses, both inside and outside. In addition, it can be used hands-free, just by sitting on it, which always comes in handy when your fingers are busy elsewhere…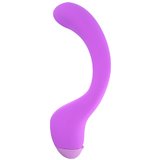 If you're seeking firm g-spot pressure, this is the toy. Structured from rigid plastic, it offers constant and delightful g-spot sensations that will have you teetering on the edge from the start. Added to which, its strong - almost silent - vibrations creates an incredible pulse all the way along the toy right through to the tip, so if its shape doesn't get you off, the vibrations certainly will.
A discreet toy, this offers delightful clitoral stimulation. It has a variety of speeds and intensities, so even if you're the sensitive type, you can still enjoy its tantalising pulsations. Ergonomically designed and with a small, handy shape, it's a nice toy to use to tease the whole vulva area.
When you fancy a quick play with something that's not too intrusive, too complicated, or too technical, this nifty toy does its job. It has thorough vibrations that emanate all along the shaft; its flexible shape is pleasing - and also very stimulating; its handy size isn't off-putting; and its waterproof capabilities are fabulous for some spontaneous shower-action.
If you like g-spot attention, you'll love this. Made from skin-safe rubber, it's a bendy, insertable toy that has a bullet vibrator right at its tip. What does this mean? Focussed sensation, that's what, and with the tip having knobbly bits along its side, it's perfect for rubbing against the g-spot, resulting in intense internal orgasms. It's fun - and easy - to use with a partner, too.
If you can't take intense clitoral stimulation, this toy is not for you: it's not subtle, soft, or silent. However, if you like incredibly powerful pulsations and adore your clit receiving focussed attention, you'll worship this toy: many, many women do.
This is a fun toy. It has ridges at the base, a curved shaft and a nice extended bump at the top, so you get simultaneous clitoral and g-spot stimulation. The vibrations are pretty intense, whilst not being noisy, and its design offers a good one-handed grip, so it's an all-round decent toy.
Sometimes you just need something small to tide you over when you're out and about. Big, this toy may not be, but powerful, it most certainly is. With an ergonomic shape, it delivers a punch in the vibrating department. Added to which, it's waterproof: it's got 'holiday toy' written all over it.

Simplicity: it works. This vibrator only has one speed, but that's all you need. It's waterproof and made from a soft-to-the-touch skin safe rubber and its small size makes it perfect for stashing in your bag, should you ever feel the urge.