The Weekly Sexpert Round-Up - BDSM Helps Your Mental Health!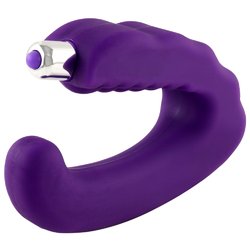 Asking your friends for sex advice can be embarrassing or lead to rather peculiar and horrific conversations about sex-gone-wrong! Instead, you're better off looking to the sex experts for help.
However, you don't have to wade through webpage after webpage or search through magazines and newspapers to find the hottest tips - Lovehoney is here to bring you all the best advice and top sex tips from the sexperts and present them to you here in The Weekly Sexpert Round-Up!
Dear Deidre, the sexpert for the Sun newspaper, takes some time out this week to discuss the G-spot:
"The G-spot can be so sensitive and its effects unpredictable, so it's often a good idea for the woman to explore for herself first and then later share the knowledge with her partner.
Fingers are usually going to be more effective than a penis and you're more likely to find the G-spot if the woman is already well aroused. There is a special sex toy designed to help - the Rock-Chick - which stimulates the clitoris and the G-spot simultaneously. "
Deidre is entirely right - the Rock Chick has a unique shape specifically designed for exquisite G-spot and clitoral stimulation. Along with the contoured silicone shape, it also includes the Ammunition RO-80mm Bullet Vibrator for a multi-orgasmic combination that will have you in raptures!
The mother and daughter team, Vicki and Octavia, from the Telegraph are answering your questions on how to bring some intimacy back into a waning love life:
"Men hate failing. They can't even ask for directions. He doesn't want to talk about any problems because he knows you'll make him go to a doctor and talk about it again, with a stranger. The doctor will give him Viagra - the pill for men who can't get it up…
Why not write him a billet-doux? Tell him that you feel unhappy. Tell him you love him deeply and miss his affectionate touch; recall times when you were close. Don't accuse. Don't mention S-E-X (or lack of it), but ask if he misses your former intimacy as much as you do."
Another alternative is to invest in some V-RX V Sexual Stimulant. This fast-acting herbal supplement will increase his libido and enhance his performance. Knowing that he will have a stronger, firmer erection and increased power and stamina in just 45 minutes is sure to make him feel more confident and add passion back to your sex life.
The Asylum's Emily McCombs reports on the public health research that would suggest that bondage lovers are happier:
"Public health researchers studied 20,000 Australians to determine that despite the stereotype that people with off-the-beaten-path sexual interests are somehow damaged, men who take part in BDSM score significantly lower on a scale of mental distress than other men."
We here at Lovehoney knew this all along and are actually more than happy to encourage your BDSM play - for sanity's sake, of course!
Keep yourself mentally healthy (and sexually satisfied) with a set of our Leather Pleasure Handcuffs. With these gorgeous and strong leather cuffs you'll be able to restrain your partner for a long night of unbridled pleasure! And with the soft, furry lining there'll be no nasty chafing or strange marks to explain on a Monday morning!