Celebrate National Orgasm Day with Lovehoney!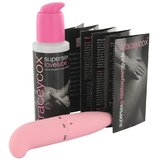 Put your party hat on and come join us in our appreciation of the orgasm and all its spine-tingling, lip-biting, toe-clenching, breathtaking wonder!
National Orgasm Day takes on a new relevance in 2008 due to a report in February in the Journal of Sexual Medicine by Prof Emmanuelle Jannini, who claimed that most women cannot achieve a vaginal orgasm because they lack a G-spot.
However, Lovehoney wants you to help prove that this is not the case! We believe that every woman has a G-spot, but the likelihood of you being able to achieve orgasm through it depends on your own sensitivity and response to stimulation.
Most women are unsure of how they can increase the sensitivity of the G-Spot and how they can stimulate it, but we have just the answer!
Kegel (otherwise known as pelvic floor exercises) are absolutely fantastic for increasing your likelihood of having a G-spot orgasm and there's no better way than with the Berman Centre Isis Beginner Pelvic Exerciser. This smooth, seamless exerciser is made of superior Lucite and is designed for absolute beginners and seasoned professionals of pelvic muscle exercises.
Simply insert the Isis inside your vagina as far as comfortable and squeeze your vaginal muscles around it. Start by using it lying down, and eventually try to use you muscles to hold it while standing up!
Not only will you have stronger pelvic floor muscles, which your partner will love, you will have also increased your chance of having that amazing G-spot orgasm!
Or give one of our G-Spot Vibrators a go! These extraordinary sex toys are designed with an angled tip, purposely built to stimulate the G-spot in the best possible way!
The Tracey Cox Supersex G-Spot Orgasm Kit is perfect for experiencing those overwhelming sensations and comes with a G-spot orgasm guide, Supersex Love Lube and the smoothest, single-speed, curved vibrator around.
If you're a man and want to get in on the climactic action this National Orgasm Day, why not try one of our undeniably good male sex toys? Or explore your P-spot with a prostate massager?
One of the best male toys around is the Tenga Flip Hole Masturbator.This revolutionary toy is designed to give you a better-than-real experience! It's lined inside with nubs, nodules, bumps and ridges that are sure to push you over the edge.
Join us over at the Orgasm Army discussion forum in the Lovehoney Community to talk about what you're going to do to celebrate this joyous day!