Reader Tips: Masturbate together and enjoy a better relationship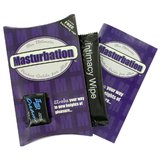 Lovehoney readers reveal their favourite sex tips…
Reading many articles and talking to the few people prepared to actually admit the fact, it seems that most people women and men masturbate solely in private.
I must admit that in the early years of our relationship I felt very conscious about "doing it" in front of my hubby but now it seems the most natural of things of things to do.
I love seeing my hubby get his cock out and stroke it, to see it twitch, to watch the pre-cum drip from the hood tip. I love it when he jerks it faster and faster till it becomes like a blur, then his body stiffens and he shoots his load.
My hubby loves me to open my legs really wide so he can enjoy the view, one hand playing with my pussy and the other teasing my nipples, when my right nipple gets big and hard I stick two fingers into my now soaking wet pussy and enjoy probing for a few minutes before furiously rubbing my clitty to a very wet climax.
We have found that masturbating "together" brings us together even more… masturbation can be as good sometimes even better than routine sexual intercourse.
We share our fantasy stories, role play and I believe couples who masturbate in private (or not at all) are robbing themselves of a sharing and very pleasurable experience.
Check out Lovehoney's range of Better Sex Books.