Reader Tips: Make a condom into a dildo!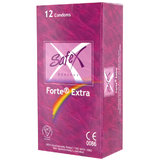 Lovehoney readers reveal their favourite sex tips…
Here's a cool sex tip - literally.
Fill a condom with water, tie the end and pop it in the freezer. Once frozen, it makes a fantastic, thrilling dildo (allow it to stand for a few minutes before use to avoid any nasty ice burns!).
As the ice melts, the melting water inside the condom creates some fabulous sensations as you move it in and out of your, or your partner's, pussy.
Check out Lovehoney's range of condoms.