The Sue Johanson Royal Prince G-Spot Vibrator Free This Week!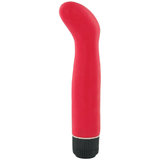 It's the Lovehoney summer sexathon! This week get a Sue Johanson Royal Prince G-Spot Vibrator absolutely free when you spend £40!
Made of the softest and smoothest silicone this tremendous 7 inch vibe just begs to be touched!
The large, angled tip is perfect for stimulating the G-spot but also makes an excellent clitoral vibrator when used externally.
As well as its multi-functions, it's also multispeed! Ranging from the teasingly gentle to the knee-tremblingly powerful, you can control your orgasms with just one smooth turn of the dial!
On top of all this you also have the added feature of it being entirely waterproof! So next time you're taking a bath, take this sleek and smooth vibe with you and have fun!
This Sue Johanson Royal Prince G-Spot Vibrator has many uses apart from simply as a G-spot vibrator but here are our favourites:
5 orgasmic ways to have fun with your Royal Prince G-Spot Vibe
1. Place the corner, between the shaft and the angled tip, against your clitoris and enjoy the vibrations spreading all over!
2. Get your partner to blindfold you and stroke the vibe over your most sensitive areas - the nape of your neck, your ear lobes, the back of the knees… have fun guessing where you'll experience the phenomenal sensations next!
3. Let your partner in on the action and use the soft and sensuous tip of the Sue Johanson Royal Prince G-Spot Vibrator to stimulate around the base of his penis and his testicles while you give him oral sex.
4. Turn the shower head on to a comfortable heat and use the power of the water to stimulate your clitoris, while the vibe works internally, vibrating against your G-spot for the most overwhelming orgasm ever!
5. Play the exhibitionist and get your partner to watch as you use it. Warn him in advance that he won't be allowed to touch you, only himself and see how long it takes before he breaks the rules!
Numbers are strictly limited.
Sorry but this offer has now closed but you can read about our latest free vibrator offer here.