Women! Here's How to Buy Sex Toys for Men
Most men enjoy sex toys but some are unwilling to admit it - thinking that asking for one is tantamount to saying that they're not very good in the bedroom, which is absolute rubbish.
Getting past their massive egos is a step too far for most men, which is why you need to give them a helping hand in the sex toy department.
Use this guide to choose an exciting toy for your man - he'll love you for it!
Top Tip 1: Stick to what your man likes
Knowing what your man likes and doesn't like in the bedroom is half the battle when choosing his sex toy, so think about what your guy gets up to in bed and apply that to the many sex toys we have on offer!
For example, if he masturbates regularly he may enjoy giving his hands a rest and trying a delicious Pink Lady Fleshlight. As one of the most realistic male sex toys, the Fleshlight is designed to give him a little piece of you when you're not there!
If he likes having his anus touched when you give him oral sex, he'll probably be keen to try out a small prostate massager. This fleshy nub located on the front wall of the anus can be stimulated using fingers or a toy, such as the Bad Boy Prostate Vibrator, and lead to explosive full-body orgasms!
If you're still not sure what he would like, check out some of the fabulous reviews to see what male sex toys are on other men have rated highly.
Top Tip 2: Decide on your budget and stick to it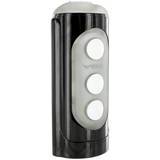 It's so easy to get swept away when buying gifts for your loved one that sticking to your budget is essential if you don't want to be in trouble with your bank manager.
We always stock a wide range of purse-merciful toys for both boys and girls, so it's worth taking a good look around before you decide for definite.
The Tracey Cox Supersex Stroker, for example, is very cheap but superbly satisfying! Alternatively you might like to go for a disposable sex toy such as the TENGA Standard Edition Deep Throat Onacup which is so cheap that you can treat yourself to something too!
If you have some serious cash to spend and want something special and sexy for your man, then there are lots of luxury products available that will really put a smile on his face. The TENGA Black Flip Hole Masturbator is an impressive male sex toy with a specially designed internal sleeve that feels phenomenal - it's the equivalent of the orgasmic Lovehoney Jessica Rabbit 2.0 Rabbit Vibrator for women!
Top Tip 3: Use your imagination
Even though you may not be into sexy gifts and naughty games, your man most probably will be, so broaden your imagination beyond your own personal taste when choosing a saucy gift for your man.
If the thought of a porn film makes you cringe, why not make it beneficial for both of you and buy an instructional sex DVD instead? They're fun and informative, at the same time. Try learning about Kama Sutra or erotic massage together.
Sex games such as Monogamy make excellent gifts for the guy who has everything!
Designed to help you and your partner open up to each other, most sex games will create new avenues of exploration which you may never have even thought of before! Just make sure to have a few props at hand for when things get hot and heavy!
Top Tip 4: Keep his lifestyle in mind
An element of practicality is always useful when buying gifts. After all, there's no use in buying your man a large Teddy Babe if he's travelling a lot with his job.
If he's a jetsetter then buying him a sex toy that is travel-friendly, such as the Monkey Spanker Male Masturbator, will make him very happy.
If your boy spends a lot of time hanging out with his friends, he'd probably like a sex toy that is silent but deadly so none of his housemates can hear! A discreet TENGA Egg Wavy would be ideal.
Top Tip 5: Dress to impress
Don't worry if your man isn't really into cock pumps and prostate massagers, there is another way to turn him on that doesn't involve battery-operated friends.
Instead, why not buy a set of sexy lingerie or a gorgeous costume for yourself and put it on just before he gets in from work? We guarantee that seeing this sexy surprise will instantly get him in the mood for some naughty fun!
Need more help?
You can Contact Customer Care, who will be able to help you find the perfect toy. You can send an email any time, and telephone or live chat to an experienced advisor from 8am-10pm Monday-Friday and 8am-4pm Saturday.
The other great place to look for people's advice on sex toys is on the Lovehoney Forum, where our community is on hand 24/7 to give their opinions and tips.
---
You may also like