Em and Lo - the Sex Experts who know how to do everything
Sex experts Em and Lo (more formally known as Emma Taylor and Lorelei Sharkey, full-name fans!) have been dispensing sexual wit and wisdom for more than 9 years.
They have book out which explains how to do (almost) everything rude, as well as a Channel 5 series of the same name airing this summer.
Sex: How To Do Everything is a beautifully produced guide to sex in the bedroom and beyond. We asked Em and Lo and few questions about it. And sex.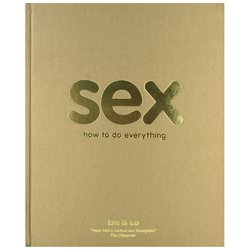 Sex: How To Do Everything - that's quite a title! Does the book really cover absolutely everything?
Okay, almost everything. But "Sex - How to Do Almost Everything" wasn't as catchy a title. We try to cover the basics and then some with new ways to think about sex, sexual moves and body parts that we think can really improve sex for everyone (well, almost everyone).
What makes the book different from other sex manuals?
Most illustrated sex manuals (ie with lots of instructional photographs) are really cheesy - the pictures often give you second-hand embarrassment.
But Rankin did a great job with the photographs - they're helpful and informative while being sleek and sophisticated.
We think the photos combined with our advice, which we always try to keep fun and funny, will really appeal to couples: we hope they'll flip through it together and then put it down to try something before getting through the whole thing.
The book offers advice for men, women, and couples. How did you research the male perspective?
We're very nosy, we have many loose-lipped friends, as well as two willing guinea pigs.
You have a whole chapter on sex toys. Are they important?
Everyone should have at least one high-quality toy in their nightstand drawer.
With the selection of decent products available today, there's no excuse not to.
They automatically bring something new to sex, and for plenty of women, it's the key to their orgasm - which is why they're great for playing with together as a couple.
Are any of the sex toys featured personal favourites?
Anything made by Fun Factory - they make amazing, high quality products out of great materials that are easy to clean and care for.
Each toy comes with a handy instruction manual (unlike many cheap novelties). They just seem like a company that really cares about healthy pleasure, not just the bottom line.
What sex question do you get asked more than any other? And how do you answer it?
From men: "How do I make my penis bigger?" You can't - at least not safely - so learn to work with what you've got.
From women: "How can I orgasm during intercourse?" or even "How do I orgasm, period?"
That's a biggie. So we'd say, "Buy our book." It's not just a shameless plug, we swear!
We think there's a lot of stuff in Sex: How to Do Everything about female anatomy and sexual function that can help women and their partners crack the code of their orgasm.
If you could pass on just one sex tip each, what would it be?
Oh, you can't just limit us to one! How about three?
1 Use lube! It makes everything feel better for longer - condoms, handwork, intercourse…
2 Don't think of sex as only intercourse. Oral sex, handwork, masturbation, using a vibrator to climax - that's all sex. And one is no better than another.
3 Get a daily dose of fiber. Seriously. It helps keeps your pipes nice and tidy, which makes you more confident having your intimate nooks and crannies explored.
Em & Lo, thank you very much!
Sex: How To Do Everything is on sale now.
You can see the sex toys featured in the book here.
A Channel 5 series of the same name with Em & Lo as presenters will air this summer.