Week of Berman's Hidden Gems: Adonis G-Spot Stimulator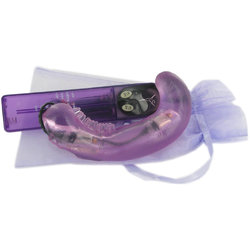 I have recently had the good fortune to speak on the phone with Dr. Laura Berman, of the Berman Institute, to get her opinion on all things sex toy related. She was just as warm and intelligent as you would assume from a woman who is head of one of the most couple-friendly, woman-centred sex toy companies. Look for the interview to show up next week, but in the meantime, I thought I would focus this week on four hidden gems from the Berman Institute line - no reviews have popped up for these toys yet, so they are just begging to become our next favourite toy.
This week: Berman Center Adonis G-Spot Stimulator
The G-spot orgasm is the elusive golden ring of the sex world. Clitoral orgasms, feh, cheap as chips!* But the full-body satisfaction of an internal orgasm? That's where the good stuff is at. The Adonis has a deeply curved shape intended to let you rock against the vibrations against both your clitoris and your G-spot. There are raised nubbly bits on the clitoral side to give you extra stimulation.
It has 10 patterns, levels, and pulses, but what I really love is that there are twin vibrators - that means you can have the clitoral vibrator on a higher intensity than the G-spot vibrator, or vice versa. That is a welcome sight to those of us who get overly sensitive on our clits just as we're wanting to increase the intensity on our G-spot. A lovely, well-thought out addition to the toy.
Like all the Berman toys, this one comes in a gorgeous lavender pouch, and this one runs on 4 AA batteries, so perfectly handy.
The Adonis is currently out of stock (drop Lovehoney an email to let them know you're wanting one), so you might like the similar Rock Chick, the G-Rock, or the Vibratex Snugglepuss.
* I was, of course, using hyperbole - I love clitoral orgasms! They're my buddies!