Book of the Month - Longing for Toys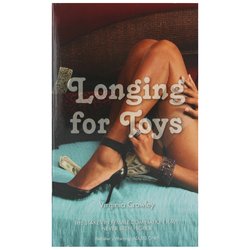 Oh my … are you ever in for a treat this month. Virginia Crowley's Longing for Toys, one of the horniest, dirtiest, filthiest reads I've ever clapped eyes on (and I've seen a few) is the Lovehoney Erotic Book Club Book of the Month for February. When you buy this primer in how best to use remote-control vibrators you'll get your very own free Chix Stick mini vibe, so you can play out scenes from the novel to your heart's content.
Don't forget to discuss your findings - with or without the vibe -with other erotic fiction fans in the Erotic Book Club forums.
In this masterpiece of financial and sexual fem dom, Robert and James - two upstanding young professionals with bigoted, conservative, middle-class girlfriends - begin a descent into wholesale financial ruin and erotic degradation the night they meet the beautiful and cunning stripper, Michele. As Robert's character erodes from that of an altruistic cancer researcher into a drooling plaything around the manicured fingers of his keeper, Robert's fiancee and his best friend try to help him. Unfortunately, their involvement also subjects them to the irresistible lure of Michele and her allies. A momentum of desire and desperation is unleashed. And before long, the entire Yuppie community hovers on the brink of erotic despair and moral ruin.
Share your thoughts on Longing for Toys in the Erotic Book Club Discussion Forum - there'll be lots of lively debate.
Here are some questions to think about while you're reading the book…
What did you like or dislike about Longing for Toys?
Which scenes did you enjoy the most?
The commercial sex trade isn't an area covered in most erotic fiction, mainly because publishers think it's unappealingly sleazy. Would you like to see more novels set in this world?
The author makes no bones about the moral and financial ruin caused by the strippers. Is sex really this dangerous?
The commercial sex trade generally tries to play down its financial motivation, while the strippers here are blatantly trying to take cash from the men. Yet their scenes are still horny as hell. Do you think a financial basis for sex gets in the way of a good dirty scene?
This is a very different take on fem dom. Did you find it convincing?
Very few erotic novels focus on sex toys the way this does. Would you like to see more? And which toys would you like to see featured?
Did the book end the way you expected?
What changes would you make to the story?
Our Erotic Book Club titles have so far been Black Lace books. This is a Nexus book, aimed more at a male readership. Does this feel different from a Black Lace book?
Have you read Virginia's first novel, Corruption? What did you think?