Valentine's Day is Coming! Miss Saigon Classic Large Dildo
After last week's very high tech gift choice, I thought this week I might showcase something on the other end of the gadgetry spectrum. This porcelain dildo is just classic from end to end--made out of a high quality material and silk printed with a gorgeous floral design. It also comes in a leather pouch which steps this up from Fancy Dildo to Great Gift of a Fancy Dildo.
The Miss Saigon comes in two sizes, the 7.5 inch and the 6.5 inch models - if you want something slightly different, the Miss Pink Classic Dildo has all the luxurious qualities of the Miss Saigon, but comes with a light, feminine pink design. It also comes in both large and smaller sizes.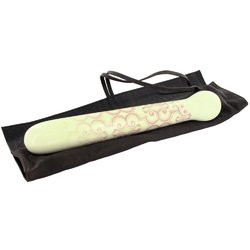 I actually own the Miss Saigon and I recommend it fully - in fact, I reviewed it and gave it five stars:
As one would assume when seeing the price tag, this is not a cheap throw-it-in-the-drawer-and-forget-about-it dildo. This is THE dildo. I found myself handling it very carefully, and reverently putting it back in its gorgeous leather pouch after use - this from the woman who has such a clutter of used sex toys around the side of my bed that it looks like where decadence went to die.
This is my first porcelain toy and I have to say… what a fabulous material to use. This dildo does come with care instructions that suggest heating it with a bit of warm water, or keeping it in the fridge for a few minutes to give it a nice chill - but I found that if I used it at room temperature, the surface had a lovely coolness that adjusted to body temperature after a few minutes.
For me, this is where this dildo is at its best… the coolness is just enough to give you a bit of a thrill, but as it warms up, it absolutely feels like skin. Because the surface of the dildo is glossy, it required no extra lubrication - once it reached body heat, it really did feel… life-like. I don't know how that would happen, but it really does. For all the money we spend on getting toys that are covered in soft "flesh-like" materials, this is hands down the most realistic penetration toy I've ever used.
The weight of the dildo is great - it has a fabulous heft and feel to it. I'm terrible with measurements, but if I say that it is not as heavy as a metal dildo, but not as light as a plastic one, does that cover it? It feels substantial but not like you're going to wear your wrist out holding it. It is also perfectly balanced - it is just a little lighter at the handle end, so I found it very flexible to move.
As I'm sure is its main selling point, it is absolutely lovely to look at. Easily a piece of art, it ends up being a toy you want to show all your friends. My only minor disappointment is that the image appears to have been hand silk-printed, rather than fully hand-painted. That is, of course, a minor quibble, I was just a bit surprised to see it.
All in all, this is a lifetime kind of toy. I can't imagine anyone getting this and not having it be their dildo of choice - it is highly recommended as a gift. Men who want to give their partners a sex toy as a gift but don't want to appear sleazy or dirty? This is the one. It is at once a romantic and sensual gift, and I can't imagine any woman not being pleased to receive it.
I know that I have a friend getting married in a few months who will be getting one of these. :)