Book of the Month - Suite Seventeen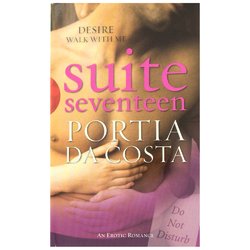 Portia Da Costa's Suite Seventeen is the Lovehoney Erotic Book Club Book of the Month for December. You can buy it for just £1.99 during December and discuss it with other erotic fiction fans in the Erotic Book Club forums.
Suite Seventeen is a story of erotic discovery… When vibrant, forty-something widow Annie Conroy decides it's time she woke up and smelt the erotic roses, where better to begin her daring adventures than the luxurious Waverly Grange Country Hotel, and its hidden den of iniquity - Suite Seventeen?
Under the stern but playful eye of exotic master Valentino, Annie surrenders to his outrageous games of power.
But when the Waverly's future hangs in the balance, and Annie has the means to save it, dare she gamble on going one step further… and giving her heart to the mysterious man who's come to control her.
Share your thoughts on Suite Seventeen in the Erotic Book Club Discussion Forum - there'll be lots of lively debate.
You can buy the featured Erotic Book Club Book of the Month, Suite Seventeen, for just £1.99 during December, saving you £5.60 on the cover price.
Here are some questions to think about while you're reading the book…
What did you like or dislike about Suite Seventeen?
Which scenes did you enjoy the most?
What do you think is the basis of Annie and Valentino's relationship at the beginning of the book and how does this develop towards the end?
How did you feel about Valentino's transvestism? Did this side of his character make him more or less attractive to you?
Would you feel comfortable visiting a place like Suite Seventeen if such a place existed?
Did the book end the way you expected?
What changes would you make to the story?