Book of the Month - Portia Da Costa Interview
With more than 20 years' experience of writing erotica, and numerous best selling Black Lace titles including Gothic Blue and Continuum to her name, Portia Da Costa knows a thing or two about how to pen a seriously hot story.
Her most recent title, Hotbed, was released in September of this year and Portia is currently working on two new titles, Gemini Heat and Gothic Heat, for release in 2008.
Portia lives in West Yorkshire.
We interviewed Portia earlier this year and caught up with her recently to ask more about Suite Seventeen…
What inspired you to write Suite Seventeen?
I wanted to write another book that took place in the same universe as one of my earlier novels, Entertaining Mr Stone. In the first book, the heroine Maria and her lover Robert Stone visit the Waverley Grange Hotel and have a red hot scene in Suite Seventeen there. I had such a lot of fun with that location, and the characters, that I wanted to revisit it, and them, and also introduce new story people who are just as naughty as they are!
What do you think makes Annie and Valentino's relationship work so well?
I think they get on so well because they're both making new starts in life. Annie's a widow reaching out for love and passion again, and Valentino has finally come to terms with the end of a major affair and is ready to move on.
Which of Valentino's personas do you feel Annie likes best?
Oh, that's a tricky one. I think that one of the things that excites Annie the most about Valentino is his ability to 'be' a number of different, exotic personae. But I think she's fondest of all of the sexy, macho, Ferrari driving Italian stud!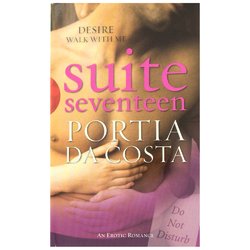 What do you think the characters would be up to if we revisited them in five years' time and how, if at all, would the Waverley Grange Hotel and Suite Seventeen have changed?
In five years' time? Well, I think Annie and Valentino will still be madly in love and having lots and lots of kinky sex.
And because I'm an old-fashioned romantic traditionalist, they'll be married too. As will Maria and Robert Stone. I think one difference might be that Annie and Valentino will be switching roles more. She'll be dominant sometimes, and he'll be the sub, because being with him will have made her much more confident and experimental.
I think Suite Seventeen will probably be just as much an erotic hotspot as it was in the book, but it probably won't be the only room at the Waverley now that has 'special' features like hidden webcams. The hotel will most likely have even more of a risqué reputation than ever, possibly hosting all sorts so fetish weekends and other sexy events.
Did you find any parts of the book more challenging to write than others?
I find all writing challenging! LOL
What do you think of the concept on an online Erotic Book Club?
It's a brilliant idea to have a club that specializes sexy titles. It saves having to hunt around all over a general book site and having reviews and interviews also helps readers to choose the books they like best.
Do you have any messages for the members of the Erotic Book Club?
Yes. I hope you all enjoy the books that I've written as much as I've enjoyed writing them. And I also hope you enjoy all the other great novels and non fiction titles available at the Erotic Book Club!