Featured Erotic Book - My Secret Garden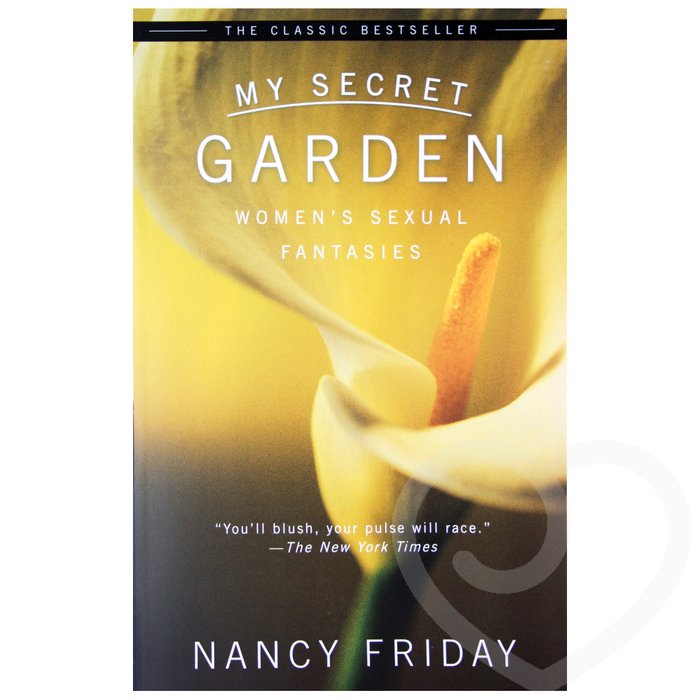 Over the past two weeks, I have talked about Nancy Friday's work, Men in Love, in which she showcased men's fantasies and Forbidden Flowers, which displayed women's fantasies. So I thought it was only right that I finish the series by talking about the book that started it all. My Secret Garden is the first of this trifecta and the one that really unveiled how much people were needing to be reassured that their fantasies were normal and healthy.
And it wasn't just the readers who submitted their fantasies who thought so--check out some of the reviews had to say about it:
From imeldaimelda:
Nancy Friday was a bit of a pioneer in terms of documenting that women do have sexual fantasies. In the 1970s she came out with "My Secret Garden", a collection of various fantasies that she had categorised. In my mind it's still the best book of its type. Nancy writes explanation and discussion of the fantasies and so this book can be educational as well as erotic, depending on which parts you read.
One of the biggest bonuses I feel many women (and men) find is that the range of fantasies represented mean that it validates your own fantasies and makes you feel normal. Some of the fantasies are a bit out there and may not do it for you, but I feel this is a strong point of the book, as the fantasies are real and have not been sanitised. They are truly and accurately the letters of those who had them. The categories mean that you can easily skip ones that do not appeal to you.
I think every woman should be given this as education when she's old enough. It's a truly marvelous book that will open your mind and educate as well as extremely turning you on. It's an absolute must for me.
And from OA Scrumptious:
There is so much choice and lots of short and long real fantasies to dip in and out of. Some of them I related to others didn't do anything for me - but as there are so many it doesn't matter. It really is amazing the kinds of things that happened to women in this book that have made such a strong impact on their lives. Some of the stories are difficult to read as they're a little bit too real whereas others are mind blowing.
I, of course, also loved it:
This is the first of Nancy Friday's books (as well known, are Forbidden Flowers and Men in Love, which both came a few years after) and perhaps her most important. This was the book that broke the barrier against the perceptions of women's fantasy lives in a big way.
Published in the 70s, Friday was fighting against the perception of the establishment that only women who had something wrong with them had sexual fantasies--coming out with this collection of real women's fantasies and thoughts on sex went a long way towards making other women feel much more comfortable about their sexuality and start getting over their shame.
Like her other books, her focus is more academic than erotic. The material being what it is, it cannot help but be arousing at times, but the focus is more on understanding why women have the thoughts they do, what the common features are, and helping women to understand that this is completely normal. For this reason, you may find that this is not necessarily the book you want if you were just looking to be titillated for a few hours.
That said, however, it is a deeply moving book and one I think is important to everyone who wants a healthy sex life to read. It is good to remind us all of how far we have come and how lucky we are to have the openness of our sex lives that we do. The bravery of the women who sent in these fantasies is to be commended--also, more than one of them will give you thoughts for later.
This is the thinking woman's (and man's) erotica. It is also a very good book to start with if you are interested in sexual fantasies, but aren't sure you're ready to start with the more explicit and raunchy titles.
This is definitely one to round out your collection of thinking erotica. You will be amazed how eye-opening it can be to really examine how you think about sex.