Lovehoney Silver Jessica Rabbit Vibrator - Sex Toy of the Day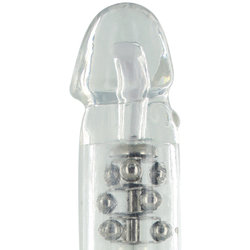 While there's no room for false modesty in the cut-and-thrust world of sex toy retail, we're not ones to blow our own trumpet. In fact, we don't really need to, with Orgasm Army reviews like the following, of our very own Lovehoney Silver Jessica Rabbit Vibrator. Why trust us when you can read what happy punters have to say? Not that you shouldn't trust us, you understand… but we'll even throw in a free Lovehoney User Guide to the Rabbit worth £6.99 for goodwill if you realise you can't live without this rabbit after reading the review!
'How much do I love this?
This is my second Rabbit - I had one a while back which had to be operated from a sort of handheld control on the end of a wire. But this one has integral batteries and integrated controls, which makes it a lot more robust. The only disadvantage is that it sometimes feels like you need long arms to hold it in place and operate the various buttons.
Anyway, the key thing is it WORKS. I've been told that a lot of women don't bother putting it inside them, but just use the rabbit ears on their clitoris. I think that's a terrible waste! It feels great to put it inside you and squeeze your muscles round it while it's on one of the rotating settings AND have the rabbit ears going on your clitoris at the same time! Zowie!
A lot of people have said that the lights denoting the various settings are a waste of time. If you're a woman and you're using it on yourself then that's probably true. They are hard to see in that position, and anyway you'll feel which vibration pattern you are on straight away, trust me.
Then I wondered if actually it might be helpful if a man is using it on you, because he would be able to tell from the lights which setting it's reached in the cycle of seven. But actually, I still don't think it's necessary, because the thing is actually quite noisy, despite the manufacturers claims.
A bloke would have to be stone deaf not to hear the pattern of the vibrations and rotations. This is definitely not a toy to use if you want to be quiet and subtle - on full blast it sounds like a kitchen mixer, like the sort you use for making dough…
I'm also not entirely sure about the much-hyped metal ball-bearing type things. Personally I don't really feel them as to get the ears of the Rabbit in the right place on my clit, the cock bit of the Rabbit can't go inside quite deep enough to feel the balls moving.
Things I really loved about it though:
It's really powerful, particularly on the third vibration setting!


I liked the platinum colour


It's waterproof!


It's pretty tough


It doesn't have a strange rubbery scent like some toys


Did I say it works????

I'd recommend it for any woman, even a novice Rabbit user.'

You can buy the Lovehoney Silver Jessica Rabbit Vibrator, or check out our full range of rabbit vibrators.