Top 5 Sexy Honeymoon Gifts for the Bride and Groom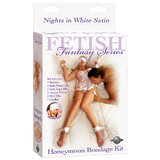 We all know that your wedding day is a time to make a solemn vow of love and devotion to that special someone in your life. But why not make it sexy as well? The latest craze amongst brides-to-be is posing for nude portraits as gifts for their grooms. If you fancy something a little bit x-rated to add some spice to your special day, why not check out For Your Eyes Only and give your husband a REAL photo to put on his work desk.
Of course, we have your wedding needs covered - all ready and waiting to make your wedding day (and night) one to remember. And if you're already happily married, stoke the flames of passion anyway! Check out our top 5 picks for a super-raunchy wedding night…
1 White Wedding Night Sex Kit
Everything you need for a white-hot first night of passion (and many more after!) including a vibrator, sleeves, love dice, tickler and mask.
2 Good Vibrations Honeymoon Gift Set
Perfect for a honeymoon, weekend getaway - or simply an empty house! This kit includes an array of treats for a frisky twosome.
3 Fetish Fantasy Honeymoon Bondage Kit
The ultimate erotic kit for your first (!) night of passion - let yourself be gently tied and succumb to pleasure…
4 Flirt Bridal Seduction Kit
Something old, something new and something very blue! This kit for naughty honeymooners makes the ideal secret wedding gift.
5 Bridal Musical Wedding Night Knickers
Give the groom the surprise of his life with these musical wedding night knickers!