Make Your Own Porn Movie With Female Porn Director Anna Span
Female Porn Director Anna Span
On this week's Dirty Talk Show we have the extremely gorgeous and multi-talented Anna Span, female-friendly Porn Director and erotic author, talking about her kinky career and her top tips for how you can make your very own home porn movie!
Bad Kitty: Hey Anna, to begin with, can you give Bad Kitty readers a brief overview of what your job entails?
Anna Span: Since 1998 I have been writing, directing and producing porn films with over 185 scenes made to date. My job includes everything from choosing the models, writing the scripts, camera work and overseeing the editing. In the last year I focused on setting up distribution, too.
BK: Why did you decide to get involved with the porn industry?
AS: Because I have always liked sex, because I knew it was important to add to women's understanding of their sexuality and because I am naturally experimental and this type of film allows you that space to experiment.
BK: How did you land your job as a porn director and what was your first job in the industry?
AS: I wrote my dissertation, 'Towards A New Pornography,' in 1997 at St Martins school Of Art while studying Fine Art, Film and Video. I then tried to make my first feature porn film by myself, but I eventually started making programmes for Television X while working there full-time as an Editor making censor's cuts – ironically!
BK: You're a director of 'female friendly' porn. What exactly does that mean?
AS: It involves camera shoots from a female perspective angle as well as the male; good looking guys; believable/funny scenarios; eye contact; good styling; non degrading roles for women; fantasy or reality type scenarios (I do two types) and humour. I also don't sell films by body types, ie, big-titted women or by acts, ie, all anal because women don't think like that.
BK: Which film would you say is the best example of your work?
AS: There isn't one that's best – some scenes really work, some less so. My personal favourites vary, but I like A& O Department and Anna's Mates a lot.
BK: What tips can you give Bad Kitty readers about making their own home porn videos?
AS: I've written a whole book on the subject called Erotic Home Video – Make Your Own Erotic Films, which has loads of tips on the subject, but I would mainly say that you should both share using the camera and explore your point of view. Put it on auto, as you wont make a technical masterpiece anyway. Begin the scenario with a narrative, which can start with sneaky peaks outside, and if you're embarrassed try mimicking porn stars to get started and use POV (Point Of View) shots as they evoke real sex and can be very horny.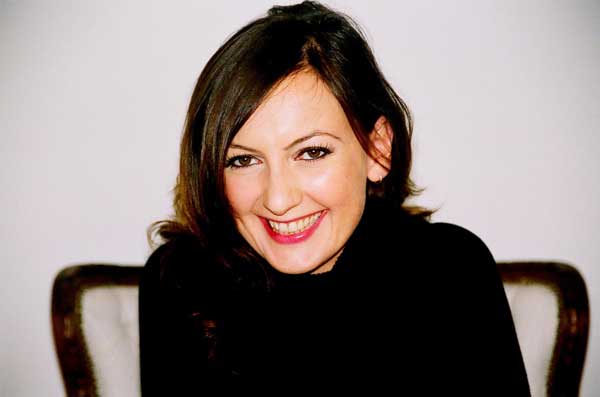 BK: And how would people get around the problem of not having their own camerman?
AS: You could set it up on a tripod/chest of drawers or use a mirror.
BK: So what is the steamiest sex scene you have ever directed?
AS: There have been many. I shot a girl on girl scene the other day where one of the girls had never had sex with a girl before, and the other did fisting, was shagged by a foot and a bottle as well as other acts and she was totally keen to do these things. The energy between the two was a one off!
BK: Do you ever get turned on when directing a sex scene?
AS: Yes sometimes, when it's really good, but there's a lot of technical stuff to keep your mind on, too.
BK: Have you ever acted in any porn films yourself? If not, would you consider doing it?
AS: I have made home movies and would maybe consider a cameo one day, but I'm not sure. I'm not really that much of an exhibitionistic.
BK: Have you worked with any major porn celebrities?
AS: Some British stars such as Hannah Hartley, Mckenzie Lee, Alicia Rhodes, Steve Hooper, Tony Di Sergio, Nadia/Pixie and Angel Long.
BK: Which porn actor/actress would you most love to direct and why?
AS: Belladonna, she is truly talented.
BK: If you could direct a porn film starring a Hollywood celebrity, who would it be and why?
AS: Hollywood doesn't really do it for me, I don't fancy any of them really!
BK: You mentioned earlier that you're involved in the casting process too, so what is the general casting procedure for a porn actor/actress?
AS: Male actors have to send in nude photos with erections and then audition wanking in a film (a bukkake or wanking in the background), and then in the next scene I will try them out on their own. A girl just needs to send in photos.
BK: Finally, what is your favourite sex toy and why is it your favourite?
AS: I can't remember the exact name but I have a Rabbit vibrator that has the Rabbit ears that tickle the bum, too. It makes the whole area between my clit and anus come alive.
---
You may also like:
---
Users found this post when searching for:
how to make your own porn movie

make your own porn movie