The Lovehoney Guide to Attending a Fetish Club for the First Time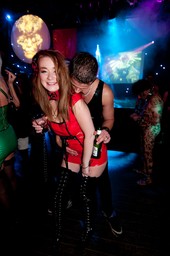 No man or woman is born rubber clad into a world of goddesses and gimps. The fetish scene and the clubs that frequent them were just as alien to me once as they may be to you today. It doesn't take much more than a killer outfit, a can-do attitude and an open heart and mind to take your first steps into the public fetish scene. In fact the only other weapon missing from your arsenal is knowledge. If you're intrigued by the scene but tentative about attending an event, this blog should provide you with all of the basics you need to get you from curiosity to club night.
What is the UK Fetish Scene Like?
You may already have ideas about what the fetish scene is like or you may be entirely in the dark. A lot of our preconceptions will be based around what the media has taught us and are often restricted to the darker side of things. We've all read tales about domination parties involving public figures in questionable dress, but it would be a shame if fetish club virgins took that as an accurate representation.
In reality the fetish scene and indeed the clubs that are the focus of it couldn't be a further cry than the extreme image we manifest. Imagine a club where the music is diverse, the atmosphere is relaxed and fun and the drinks flow freely. Then imagine it's a place where you can be yourself without question, explore your own fantasies without being frowned upon, dress in the most fantastical way without ridicule and discuss sex and sexuality with anyone you meet without judgement. To scene players like myself, this is the reality of the fetish scene and I'm confident that it won't take you more than one experience with an open mind to show you just the same.
London Fetish Weekend is a great place to explore if you're a fetish club virgin as events run throughout the day as well as the night. Anticipations can be quelled by attending workshops or indulging in a spot of shopping. By talking to stall holders in the markets, you'll start to feel much more at home in your surroundings and gain a chance to try out some new toys, look at some beautiful erotic artwork and learn more about the scene from those who live, breathe and love it.
The first rule to remember is simple; if you're curious about something, ask those in the know. People in the fetish scene love to talk and you'll find that most will spend time with you talking about their experiences and answering any questions you may have.
What are Fetish Clubs Like and What are The Rules?
There are so many fetish nights to choose from that it can be difficult enough just choosing an event to go to. For me, Torture Garden is the ultimate fetish club. It has everything you could hope for – multiple rooms with different music, performances by passionate professionals, aesthetically astounding fashions shows, a dungeon, poles to dance on and one of the most eclectic and culturally diverse group of attendees you could hope for.
The club you choose to attend for the first time will really depend on what you're looking for. There are a wide range of nights to cater for different tastes and each will have its own theme. Some are women or men only, others focus more on the dungeon and some choose to centralise the entire night around the on-stage entertainment. It's a wild world to explore and it's easier than it seems to take the plunge.
Your first port of call is to check out the club online. By visiting the club's website, you'll gain insight into the history of the club, its ethos and the rules and regulations. Most clubs also feature a gallery of attendees to look through, but don't worry, no one will photograph you if you say no, the scene is very courteous and private cameras aren't allowed. If you're still worried you might have a bad time, pay attention to the photos. Does anyone look like they're having an average time? Not a chance.
Can I Go To A Fetish Club Alone?
Even armed with all of the information, you may still feel nervous about going to a club, especially if you're single and have no like-minded friends to go with. One of the most common things I'm asked by potential attendees, especially men, is whether or not they can come with me to an event. As nice as it would be in an ideal world to agree to go along with a gaggle of first time submissive men to do my bidding for the night, the reality is that I don't think that it's the best way to introduce yourself to the scene. Some clubs do have a 'no singles' rule, but for every club that does there are 10 that don't. If your preferred club night is singles friendly, I would suggest going it alone in the absence of a date.
The night that you'll have will depend entirely on your attitude, as with any night out. If you have the curiosity in you and you've made it so far as the clubs website, you've nothing at all to lose by going along. The golden rule is to find the bravery to talk to people once you're there, you certainly won't be the only person who has gone alone. If you don't feel confident in speaking to groups of people, you can always speak to someone else who is there alone. The trick is to remember that you're in like-minded company, simply opening with "My name is ______ and I'm here on my own, it's my first time in a fetish club" is usually enough to make a fetishy friend.
What Do I Wear To A Fetish Club?
The dress code of any fetish night is something not to be taken lightly. Those who have made little or no effort will be ejected by the security or staff.
The club website will provide you with information on what you can and cannot wear. Usually the code is 'Fetish dress' which is generally considered to be fabrics like leather, latex, fishnet and PVC but also include fur, lace, Lycra, spandex, metal, bondage tape, liquid latex, acrylic and all kinds of other materials. Generally clubs want you to make an effort and will provide you with suggestions for outfits you could choose such as uniforms, corsets, drag and burlesque.
Many nights follow a theme such as medical or 'come as an animal'. Themes are not compulsory, but are intended to help people bond over a common subject and allow people to express their interpretations no matter how unique or outrageous. Themed nights offer a great talking point and inspire some incredible joint efforts.
If you're still unsure what is and isn't acceptable dress, try looking at the club night galleries online for inspiration. Anything in our Women's Fetish Clothing or Men's Fetish Clothing categories is fetish club friendly.
You can turn up in you regular clothes and change at the venue if you're uncomfortable travelling in your outfit, but you may be asked on the door if you have a change of clothes. It's also worth mentioning nudity and bondage wear Some clubs allow you to attend naked with bondage equipment on, others don't. Always check with the individual club before you go to a club intending to wear just your CB 6000.
What Happens At A Fetish Club?
This again will depend on the event that you go to and the rules imposed. As a rough guide, you can expect plenty of music and dancing – just like any other club. There are of course plenty of fetishy activities happening around you and it's not unusual for you to see clubbers engaging in acts of domination, submission, bondage and sadomasochism.
Some of the more regular activities you'll see are foot worship, cross dressing, people walking over one another, spanking and flogging, restraint, animal play (where one person pretends to be an animal and others treat them as one) and free range slavery (random submissives who will offer services from being a chair to massage to buying you drinks or being an ashtray). There are more unusual practices that occur and sometimes exhibitionist sexual acts. Every night is different, so keep an open mind.
Take The Plunge
There's very little else that can be said about preparing for a fetish night. If you've done the research and you're still curious, then you really should bite the bullet and take the plunge. I've yet to meet someone who went and didn't had a good time and you'll find it hard to track down an account of a bad first experience. Thousands of UK kinksters cannot be wrong and the story is repeated throughout the sexually enlightened world. You lose nothing by taking a chance other than the ticket price.
So what are you waiting for? Take the plunge and buy a ticket to your event of choice. Buy yourself some sexy fetish wear and bondage equipment and prepare to see exactly what the fuss is all about. I'm willing to bet that your first time won't be your last.