Anna Span: Feminist Porn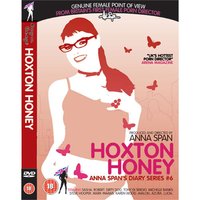 More and more UK women are interested in porn, according to a recent survey. We're big fans of Anna Span, who specialises in porn made by women for women. Over in Canada, Josey Vogels recently attended the very first Feminist Porn Awards, and gives a detailed round up of what happened. But first - what is feminist porn?
According to the founders of the awards, Good For Her, a women-oriented sex shop in Toronto (goodforher.com), the winning films had to meet three criteria: a) they had to show genuine female pleasure (in other words, no
faking it); b) they had to be directed or produced by a woman; and c) they had to "expand the range of female sexual expression currently seen in porn."

Oh, and they had to be hot. [read more]
So there you go - you can browse our collection of Anna Span DVDs to see if they match up to what's required.