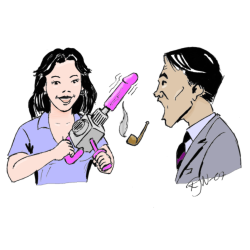 As I mentioned last Friday, I'm going to spend a couple of Fridays talking about how to introduce sex toys into your sex life with your partner.
Sex toys have a bit of a reputation as being solo-only gadgets. Things that people use when they need to masturbate - often they are thought of as being what you use when you don't have anything better to hand... be that because you're alone or because your partner isn't pushing your buttons. There is some truth to that, of course. Heaven knows my toys get put through their paces when I'm on my own. But it also does you and your toys a disservice - toys can be used to bring greater satisfaction to partners, as well.
So you've been thinking about it... what's the first thing to keep in mind when pondering how to bring up toys with your partner for the first time?