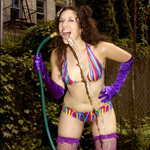 If you haven't heard of Jamye Waxman, M.Ed. then you're missing out! Not only is this woman smart, sassy and a sex toy guru, but she is one of the best sex bloggers and writers on the scene.
When she's not video-blogging her way around the sexiest trade shows in the world, Jamye is educating people in her unique workshops and preaching the naughty word across numerous sites, newspapers and magazines, including Playgirl.

If there's anything you want to know about sex, sex toys or how to get a Sony Cybershot to work, Jamye is your woman...