Mirror Mirror, On The Wall... Model of the Month, June 2014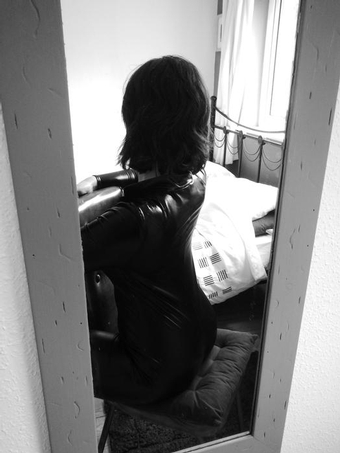 Who is the fairest of them all? Well, we may not know that, but we can tell you that PeachaStrawb is the newest Model of the Month winner - congratulations!
Using a little creativity and a lot of sex appeal, PeachaStrawb submitted this absolutely gorgeous snap modelling the Fever Miss Whip Lash Catsuit (£39.99), and we adore it!
With clever use of angled lighting on wet look material, this photo highlights the provocative nature of the garment, while her pose sets the tone. We especially love the way she's managed to get such a clear mirror shot, without any smudges, blurred bits or sneaky hands in-shot - well done!
As champion of this month's competition, PeachaStrawb has won a fantastic £100 Gift Voucher to spend on anything at Lovehoney.
Fancy your chances as Lovehoney's next top model? Upload a photo of you with a Lovehoney purchase and you'll be in with the opportunity to win in July!
Make sure you read our photo guidelines before you begin your photoshoot to give your photo the best chance of being picked.
Even if you're not the overall winner, you could still win 2,000 Oh! Points to spend or save at Lovehoney if you're chosen as a runner up!
Read on to see this month's runners up...
---
June has seen an influx of new submissions for Model of the Month, and we've selected two runners up who win 2,000 Oh! Points each to spend or save!
Don't forget, if you fancy winning a £100 Gift Voucher or a shed-load of loyalty points, just upload a photo of you wearing your favourite Lovehoney purchase before the end of July, and who knows? Next month's winner could be you!
Sadly, we've had to crop Bubblesbutterfly's photo a little for our blog, but we still think she looks smoking hot wearing the Kiss Me Satin Bustier Top with Matching Thong (£16.99).

Her pose, gritty greyscale edit and simple backdrop make this photo stand out from the crowd and totally deserves the 2,000 Oh! Points. Congratulations!

The only colour photo in the mix this month, Lollipop ;) has sent in this super-stylised photo of her (or her legs, shall we say) in the Livia Corsetti Alkyone Sheer Patterned Tights (£7.50).

Using a subtle sunburst filter and vignette frame, this photo has a retro feel and ensures the audience focusses on Lollipop's lovely legs in those tights. Fab!
---
Would you like £100 to spend at Lovehoney? Get and upload a photo of you wearing a Lovehoney purchase (making sure it adheres to our Photo Guidelines), and you might just be featured in next months blog!
---
You may also like: