Welcome to Fred Flintstone's Love Cave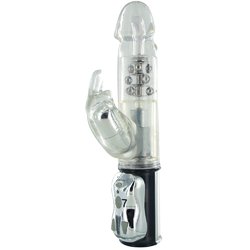 More weird news from the wonderful world of sex... If you thought your Lovehoney Silver Jessica Rabbit Vibrator was the height of urbane sophistication, think again - your hairy, flea-infested prehistoric ancestor probably had one too. Although perhaps without a set of batteries...
According to an article in the Sun with the inimitable title It's sex, ugs and rock 'n roll, 'boffins' at Bradford University have studied evidence from digs all over the world and concluded that prehistoric man was 'a creature who indulged in GROUP ROMPS and used SEX TOYS'.
We're not sure this is new news - The Prehistory of Sex, written by Bradford University's reader in archaeology Timothy Taylor, has touted its photos of stone dildos since its publication ten years ago - but it's a welcome reminder that sex for procreation isn't the sole 'natural' form of sexual activity. When man's ancestors came down out of the trees they hit the ground swinging!